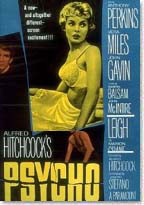 Marion Crane (Janet Leigh), a secretary in Phoenix, Arizona, steals $40,000 from one of her employer's clients to help her financially strapped divorced boyfriend, Sam Loomis (John Gavin). She flees in her car en route to Sam's California home, parking along the road midway to sleep.
A highway patrol officer awakens her, becomes suspicious of her agitated state, and begins to follow her. The officer sees her trade her car for another at a car dealership. Later that evening, fatigued from driving through heavy rain, she stops for the night at the isolated Bates Motel.
Its owner, Norman Bates (Anthony Perkins), tells Marion he rarely has customers since the new highway bypassed the place. He mentions he lives with his mother in the grim-looking house overlooking his motel and invites Marion to share supper with him.
When Norman goes to the house to prepare sandwiches she hears him arguing with his unseen mother about his supposed sexual interest in Marion. When he returns, she suggests he institutionalize his mother. Norman angrily insists he could never abandon her.
Marion resolves to return to Phoenix to give the money back. Back in her room she undresses as Norman secretly watches through a peephole in his office wall. After calculating she can replace the $700 in stolen money spent on the used car from her $824.12 savings, Marion tears up her note, flushes it down the toilet, and begins to shower.
A shadowy figure enters the bathroom and stabs her to death. Norman finds the corpse and apparently concludes his mother committed the murder. He cleans the bathroom, wraps Marion's body in the shower curtain, and places it and all her possessions — unknowingly including the money — in the trunk of her car, which he sinks in a nearby swamp.
Director: Alfred Hitchcock
Year of Release: 1960

Character to watch:  Anthony Perkins as Norman Bates.
Journal your answers to the following questions after you watch the movie.
How does this particular character's journey compare with yours?
Did the character develop certain characteristics during the movie that you have or that you would like to have? If so, what are those characteristics?
What obstacles did this character face? What was his or her biggest challenge?
What would you have done differently if you had been in the same position as the character?
Is this character the type of person you would be friends with? Why or why not?