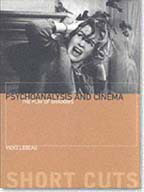 Psychoanalysis and Cinema: The Play of Shadows examines the long and uneven history of developments in modern art, science, and technology that brought pychoanalysis and the cinema together towards the end of the nineteenth century. She explores the subsequent encounters between the two: the seductions of psychoanalysis and cinema as converging, though distinct, ways of talking about dream and desire, image and illusion, shock, and sexuality.
Beginning with Freud's encounter with the spectacle of hysteria on display in fin-de-siècle Paris, this study offers a detailed reading of the texts and concepts which generated the field of psychoanalytic film theory.
About the Author: Vicky Lebeau is senior lecturer in English at the University of Sussex, UK. She is author of Lost Angels. Vicky Lebeau has published widely in the fields of psychoanalysis and visual culture. She has particular interests in the topics of spectacle and terror, sexuality, fantasy and representation – and in popular culture as a form of critical thought. She has recently published Childhood and Cinema (Reaktion and Chicago University Press, 2008).
In psychoanalysis, she has interests in Freud, Winnicott, Andre Green, Jean Laplanche, Serge Leclaire, Michael Eigen, Joyce McDougall and Christopher Bollas. She is currently researching the topic of the 'arts of seeing' (including writing on Shane Meadows, Michael Haneke, Gerhard Richter and Don DeLillo) and is working on a book-length project on the idea of loneliness.
Author: Vicky Lebeau
Year of Release: 2001