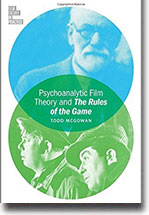 The Film Theory in Practice Series
fills a gaping hole in the world of film theory. By marrying the explanation of film theory with interpretation of a film, the volumes provide discrete examples of how film theory can serve as the basis for textual analysis.
The first book in the series, Psychoanalytic Film Theory and The Rules of the Game, offers a concise introduction to psychoanalytic film theory in jargon-free language and shows how this theory can be deployed to interpret Jean Renoir's classic film.
It traces the development of psychoanalytic film theory through its foundation in the thought of Sigmund Freud and Jacques Lacan through its contemporary manifestation in the work of theorists like Slavoj Žižek and Joan Copjec. This history will help students and scholars who are eager to learn more about this important area of film theory and bring the concepts of psychoanalytic film theory into practice through a detailed interpretation of the film.
This is a brilliantly lucid account of psychoanalytic theory and its relevance to the interpretation of the film text. Todd McGowan presents a clear and rigorous explication of psychoanalytic theory in his illuminating textual analysis of Jean Renoir's The Rules of the Game, one of the cinema's greatest films. This is an indispensable book for anyone interesting in the interpretation of films and fascinating reading for those with a particular interest in film as a form of public dreaming.
The book is an invaluable resource for both new students as well as advanced readers because it not only explores the concepts of desire, fantasy, and enjoyment of film and in film but also considers the debates between critical methodologies involving screen theory, the gaze, and ideological fantasy.
Its comprehensive review of The Rules of the Game provides an insightful psychoanalysis of the director, characters, and audience.Beyond writing an exemplary model of cogent theory and lucid criticism, McGowan demonstrates how the psychoanalytic study of film offers radical and revolutionary possibilities for art and life.
Author:  Todd McGowan