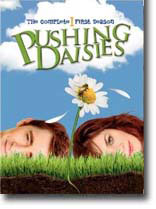 Pushing Daisies is many things at once: detective show, romantic comedy, whimsical fantasy and above all, a story about a guy who bakes pies and has the ability to bring dead people back to life. Somehow all of these things come together to make one of the most enjoyable, funny and bittersweet shows to come along in a long time.A lot of that magic comes from the near-perfect casting – Lee Pace (The Fall, Miss Pettigrew Lives For a Day) as Ned the Piemaker is wonderfully reserved and adorably neurotic; his facial expressions alone provide some of the most moving and hilarious moments in the series.
Anna Friel as Charlotte "Chuck" Charles, Chi McBride as Emerson Cod and Kristin Chenoweth as Olive Snook round out the regulars at the Pie Hole and veteran actresses Swoosie Kurtz and Ellen Greene are great as Chuck's eccentric aunts whose passions include synchronized swimming, amateur ornithology and rare cheeses.
Pushing Daisies exists in a world where people regularly break out into song to express their feelings, where death is never gory and usually played for comic effect, and where every color on screen is richly saturated and vibrant, creating an oddly timeless Edward Scissorhands-like world.
Bryan Fuller, the creator of cult favorites Dead Like Me and Wonderfalls has perfected his style with Pushing Daisies; this series has a broader appeal than the previous shows. Each imaginatively produced episode has such snappy writing paired with ghoulish sensibilities, heart wrenching romance and classic caper-style crime fighting, making every moment completely un-missable. The DVD release of Season One contains all nine original episodes and a behind-the-scenes featurette.
Alternately funny and whimsical, this series a visually distinctive romantic comedy that encompasses a truly winning mix of ingredients. With its modern fairy tale settings and exploding color schemes – along with perfect but unobtrusive narration by Broadway veteran Jim Dale – comparisons to the work of Tim Burton are all but unavoidable. (In a good way.)

Character to watch: Lee Pace as Ned.
Journal your answers to the following questions after you watch the series.
How does this particular character's journey compare with yours?
Did the character develop certain characteristics during the movie that you have or that you would like to have? If so, what are those characteristics?
What obstacles did this character face? What was his or her biggest challenge?
What would you have done differently if you had been in the same position as the character?
Is this character the type of person you would be friends with? Why or why not?