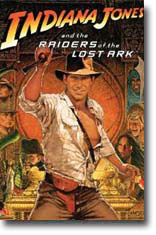 It's said that the original is the greatest, and there can be no more vivid proof than Raiders of the Lost Ark, the first and indisputably best of the initial three Indiana Jones adventures cooked up by the dream team of Steven Spielberg and George Lucas.
Expectations were high for this 1981 collaboration between the two men and Spielberg (who directed) and Lucas (who co-wrote the story and executive produced) didn't disappoint. This wildly entertaining film has it all: non-stop action, exotic locations, grand spectacle, a hero for the ages, despicable villains, a beautiful love interest, humor, horror, not to mention lots of snakes.
Along with all the bits that are so familiar by now–Indy (Harrison Ford) running from the giant boulder in a cave, using his pistol instead of his trusty whip to take out a scimitar-wielding bad guy, facing off with a hissing cobra, and on and on–there's real resonance in a potent storyline that brings together a profound religious-archaeological icon (the Ark of the Covenant, nothing less than "a radio for speaking to God") and the 20th century's most infamous criminals (the Nazis). Now that's entertainment.
Jones is no ordinary archeologist. When we first see him, he is somewhere in the Peruvian jungle in 1936, running a booby-trapped gauntlet (complete with an over-sized rolling boulder) to fetch a solid-gold idol. He loses this artifact to his chief rival, a French archeologist named Belloq (Paul Freeman), who then prepares to kill our hero. In the first of many serial-like escapes, Indy eludes Belloq by hopping into a convenient plane. So, then: is Indiana Jones afraid of anything? Yes, snakes.
The next time we see Jones, he's a soft-spoken, bespectacled professor. He is then summoned from his ivy-covered environs by Marcus Brody (Denholm Elliott) to find the long-lost Ark of the Covenant. The Nazis, it seems, are already searching for the Ark, which the mystical-minded Hitler hopes to use to make his stormtroopers invincible. But to find the Ark, Indy must first secure a medallion kept under the protection of Indy's old friend Abner Ravenwood, whose daughter, Marion (Karen Allen), evidently has a "history" with Jones.
Whatever their personal differences, Indy and Marion become partners in one action-packed adventure after another, ranging from wandering the snake pits of the Well of Souls to surviving the pyrotechnic unearthing of the sacred Ark. A joint project of Hollywood prodigies George Lucas and Steven Spielberg, with a script co-written by Lawrence Kasdan and Philip Kaufman, among others, Raiders of the Lost Ark is not so much a movie as a 115-minute thrill ride.
Director:  Steven Spielberg
Year of Release: 1981

Character to watch: Harrison Ford as Indiana Jones.
Journal your answers to the following questions after you watch the movie.
How does this particular character's journey compare with yours?
Did the character develop certain characteristics during the movie that you have or that you would like to have? If so, what are those characteristics?
What obstacles did this character face? What was his or her biggest challenge?
What would you have done differently if you had been in the same position as the character?
Is this character the type of person you would be friends with? Why or why not?