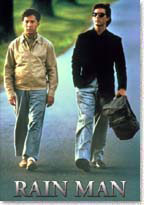 Charlie Babbitt (Tom Cruise), Los Angeles car dealer in his mid-twenties, is in the middle of importing four grey market Lamborghinis. The deal is being threatened by the EPA, and if Charlie cannot meet its requirements he will lose a significant amount of money. After some quick subterfuge with an employee, Charlie leaves for a weekend trip to Palm Springs with his girlfriend, Susanna (Valeria Golino).
Charlie's trip is cancelled by news that his estranged father, Sanford Babbitt, has died. Charlie travels to Cincinnati, Ohio, to settle the estate, where he learns an undisclosed trustee is inheriting $3 million on behalf of an unnamed beneficiary, while all he is to receive is a classic Buick Roadmaster convertible and several prize rose bushes.
Eventually he learns the money is being directed to a mental institution, which is the home of his autistic brother, Raymond (Dustin Hoffman), of whose existence Charlie was previously unaware. This leads Charlie to ask the question that permeates the movie: "Why didn't somebody tell me I had a brother?"
Because Raymond has autism, he also has superb recall, albeit usually with little understanding of the subject matter, but has extreme skills in mathematics (in those scenes he merely remembers the answers, and with no understanding of currency).
He is said to be a savant by some doctors. He is frightened by change and adheres to strict routines (for example, his continual repetition of the "Who's on First?" sketch). Except when he is in distress, he shows little emotional expression and avoids eye contact.
Rain Man is ostensibly told from Charlie's perspective; through his, the "normal" guy's eyes we perceive Raymond's habits, tics and strange behavioral code. And even if Charlie is easy enough to snub for his superficiality and materialism, his frustration at his inability to communicate with his brother feels genuine and is something we can empathize with (albeit perhaps inadmittedly).
Tom Cruise plays Charlie with a finely-tuned mix of audacity and reluctant emotion; turning a role that seems to start out as just another Cruise cliche into a character who hesitantly comes to realize his own complexities and shortcomings and learns to appreciate sensitivity, compassion and love – yet, without ever taking the role that treacherous step too far into sentimentality.
Director: Barry Levinson
Year of Release: 1988

Character to watch: Dustin Hoffman as Raymond Babbitt.
Journal your answers to the following questions after you watch the movie.
How does this particular character's journey compare with yours?
Did the character develop certain characteristics during the movie that you have or that you would like to have? If so, what are those characteristics?
What obstacles did this character face? What was his or her biggest challenge?
What would you have done differently if you had been in the same position as the character?
Is this character the type of person you would be friends with? Why or why not?