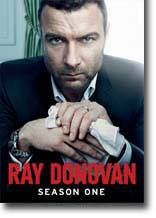 Set in the sprawling mecca of the rich and famous, Ray Donovan (Lieb Schriver) does the dirty work for L.A.'s top power players. Donovan is the go-to guy who makes the problems of the city's celebrities, superstar athletes, and business moguls disappear.
This powerful family drama unfolds when his father Mickey (Jon Voight), is unexpectedly released from prison, setting off a chain of events that shakes the Donovan family to its core.Donovan is a dark, brooding man who is called at all hours to fix someone's problems.
He's employed by Goldman and Drexter, a law firm. This is a tough job, very physical, often employing guns and the like. Fists fly, threats are made. Often the situations are sexual in nature, and Ray knows how to fix everyone's problems. He has a staff who are the best at their work, and the insurance the law firm must have to cover them is probably in the millions.
Ray has a family, wife, Abby (Paula Malcomson), two children, a boy and girl (Devon Bagby and Kerris Dorsey). They are Boston Irish and all came to L.A. to hide from Mickey. The dysfunction in this family is like no other.
Mickey is said to be responsible for his daughter's suicide, and has killed a Priest. It sounds like Mickey was part of the Boston Mafia. He went to prison for twenty years, and was let out early, ostensibly to rat on Ray for the FBI. One happy family, once Mickey journeys to L.A. to join Ray's brothers at their boxing establishment.

Character to watch: Lieb Schriver as Ray Donovan.
Journal your answers to the following questions after you watch the series.
How does this particular character's journey compare with yours?
Did the character develop certain characteristics during the movie that you have or that you would like to have? If so, what are those characteristics?
What obstacles did this character face? What was his or her biggest challenge?
What would you have done differently if you had been in the same position as the character?
Is this character the type of person you would be friends with? Why or why not?