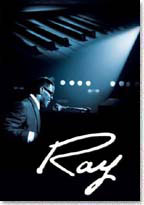 Born in 1930 and raised on a sharecropping plantation in Northern Florida, Ray Charles Robinson (C.J. Sanders, Jamie Foxx) went blind at the age of seven, shortly after witnessing his younger brother (Terrone Bell) drown. Inspired by a fiercely independent mother (Kerry Washington) who insisted he make his own way in the world, Charles found his calling and his gift behind a piano keyboard.
Touring across the chitlin circuit, the soulful singer gained a reputation and then exploded with worldwide fame when he pioneered incorporating gospel, country, jazz, and orchestral influences into his unique style.
By the early 1960's Ray Charles had accomplished his dream. He had performed in Carnegie Hall and his hit records "Georgia" and "Born to Lose" were at the top of the charts. Charles had completed a highly successful European concert tour, a feat which he would repeat almost every year. He had taken virtually every form of popular music and broken through its boundaries in a way that no other musician had ever done before.
This is a very good movie that houses an exceptionally great performance by Jamie Fox as music legend Ray Charles. I must confess that as a genre, the biopic is not my favorite, especially of figures as well known as Ray Charles. We usually receive in such films distorted portraits of them, or undeserved adulation. Ray is one of the more balanced biopics I have seen.
Charles is presented as a musical genius who had managed to overcome physical disabilities that would have stopped most others, but it doesn't attempt to mute the serious and unflattering personal moral problems he had with drugs and his exploitative treatment of women. Nor is he revealed as a moral saint or loving person. Though pleasant with others for the most part, Ray is shown as a proud, independent, and slightly self-absorbed, a bit selfish in his treatment of women.
Director: Taylor Hackford
Year of Release: 2004

Character to watch: Jamie Foxx as Ray Charles.
Journal your answers to the following questions after you watch the movie.
How does this particular character's journey compare with yours?
Did the character develop certain characteristics during the movie that you have or that you would like to have? If so, what are those characteristics?
What obstacles did this character face? What was his or her biggest challenge?
What would you have done differently if you had been in the same position as the character?
Is this character the type of person you would be friends with? Why or why not?