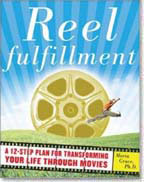 A powerful program based on the popular standing-room-only Learning Annex course to forge personal fulfillment through the movies. This original new approach to personal happiness teaches you how watching your favorite movies can radically improve your life.
Using interactive prompts and work sheets, you will learn how silver-screen fantasies from such diverse movies as "Working Girl," "Star Wars," and even "Shrek" can uncover the self-imposed obstacles and unrealistic expectations that get in the way of realizing your dreams. With tips on how to create a realistic "life script," Reel Fulfillment will guide you to a "happily ever after."
Self-fulfillment expert Maria Grace gives you dozens of films to choose from as she leads you through the life lessons they offer. Within weeks, you can wake up to your dream life with Under the Tuscan Sun, acknowledge your true needs with My Big Fat Greek Wedding, break free from guilt and shame with Sideways, fight for your dreams with Working Girl, and find joy in creativity with Chocolat.
Reel Fulfillment: A 12-Step Plan for Transforming Your Life Through Movies is good as a method of watching movies combined with exercises in each step to find fulfillment. The method uses the movies to help the reader find answers and create awareness. Watching them from this new angle will make you enjoy even more your favorite films and even better appreciate the ones not so good.
Author: Maria Grace
Year of Release: 2005

With soul-searching questions to guide you, you will learn how to:
    Correct self-defeating patterns in five simple steps
    Gain freedom from anger, fear, shame, guilt, envy, hatred, greed, and apathy
    Stop living for the present and start living in the present
    Face life's challenges in a lighthearted way
    Bring joy into your life and the lives of others
About the Author: Maria Grace, Ph.D., is a Fulbright scholar, experienced psychotherapist, and frequent speaker.