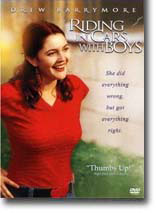 Riding in Cars with Boys achieves broad appeal as a tearjerker laced with hardscrabble humor. In the crowd-pleasing hands of director Penny Marshall, Beverly Donofrio's bestselling memoir loses much of its real-life gravity, but its rich humanity remains in abundance, especially since Drew Barrymore plays Donofrio with effortless charm.
The movie spans 20 years, from Bev's pregnancy at 15 in 1963, through welfare parenthood with a heroin-addicted husband (Steve Zahn), and semi-adult resentment as her teenaged son (Adam Garcia) takes priority over her ultimate goal of finishing college and publishing her memoir.
Brittany Murphy also appears as Bev's best friend 'Fay' who also manages to get pregnant at the same time, and ends up a single mom. Brittany can really turn her hand at anything, and comes out with some hilarious lines. The one that sticks in everyone's memory is when she pretends to be Bev's parents when she confesses she's pregnant! "My daughter's a tramp!" During one of the scenes with Bev and Fay "The End of the World" is playing.
This is the song that Brittany Murphy's character has playing during a key moment in Girl, Interrupted. The wedding scene was shot over a two day period, which required Brittany to cry the entire time. The first take was the one used in the film. It would have been nice for Brittany to appear towards the end of the movie, particularly as Jason is running off to be with Amelia. Instead, she just gets a mention.
For all of Barrymore's winning tenacity, it's Zahn's goodhearted loser who gives the film its genuine soul while lending an edge to Marshall's cloying sentiment. The real surprise here is the focus of the movie. Although supposedly the story of Beverly, the events are told from the point of view of her son and it is clear that her failures as a parent form much of the basis for this film.
She is less than an ideal parent, resentful of her son's intrusion into her life and forced to cope with more than her share of hardships. As you can probably tell by now, this isn't exactly a family movie. Gritty at times but also touching, too. Most of all, completely honest and believable.
Director:  Penny Marshall
Year of Release: 2001

Character to watch: Drew Barrymore  as Beverly Donofrio.
Journal your answers to the following questions after you watch the movie.
How does this particular character's journey compare with yours?
Did the character develop certain characteristics during the movie that you have or that you would like to have? If so, what are those characteristics?
What obstacles did this character face? What was his or her biggest challenge?
What would you have done differently if you had been in the same position as the character?
Is this character the type of person you would be friends with? Why or why not?