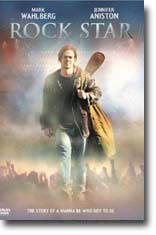 If you've ever indulged a rock & roll fantasy, Rock Star will give you the vicarious thrill of seeing that fantasy come to life. That's what happens when talented tribute-band singer Chris Cole (Mark Wahlberg) is tapped to replace his idol as frontman for a 1980s metal gods band called Steel Dragon. Chris becomes the groupie-laden "Izzy," his manager girlfriend Emily Poule (Jennifer Aniston) grows weary of sex 'n' drugs on tour, and Rock Star plays out with a true rock and roll plot line.
The casting of real rockers to support Wahlberg's over the top performance is matched by numerous other great characters such as Timothy Spall as Steel Dragon's road manager. Cole sadly follows the obligatory rock band rise and fall and has a basis in fact as it was inspired by Tim "Ripper" Owens's recruitment into Judas Priest. As a cautionary tale it's classic, and as a leather-pants love story, this movie has got enough good karma to keep its dream alive.
Rock Star combines satire, morality, romance and a good old fashioned rags to riches storyline. Salesman and ordinary working stiff Cole is a wannabe rock star that has been obsessed for years in his devotion to a British heavy metal band. As part of a tribute band, he is derided by his older cop brother (Matthew Glave) who feels he should get a real job and his devotion to mimicry is so much that even his fellow tribute band members are sick of him, and they eventually dump him.
Comforted by his patient and devoted girlfriend, Chris swears that he will prove them all wrong but he even he is shocked when he is invited to audition as the replacement singer in the band he adores. Of course he wins the gig and so begins a journey through the world of a rock idol, full of drugs, groupies, drink and general excessive behavior.
Director: Stephen Herek
Year of Release: 2001

Character to watch: Mark Wahlberg as Chris Cole.
Journal your answers to the following questions after you watch the movie.
How does this particular character's journey compare with yours?
Did the character develop certain characteristics during the movie that you have or that you would like to have? If so, what are those characteristics?
What obstacles did this character face? What was his or her biggest challenge?
What would you have done differently if you had been in the same position as the character?
Is this character the type of person you would be friends with? Why or why not?