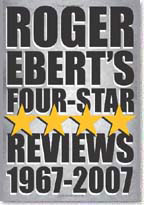 Spanning the length of Roger Ebert's career as the leading American movie critic, this book contains all of his four-star reviews written during that time. This is the perfect guide for movie watching. Many people become a big fan of Ebert's because they find they like the same movies he does. Additionally, he has a unique way of expressing his thought and feelings about his movie experiences. Ebert is a movie scholar who produces thoroughly entertaining movie reviews and books.
Each picture is a "formulaic" commodity produced by a mini-corporation (as we've become acutely conscious ever since the interminable lists of credits following movies lke "Star Wars")–an expensive operation, or company, that is compelled to follow predictable, codified patterns if only to satisfy shareholders' expectations (and insistence on a profit). First, there was Syd Field's ubiquitous manual with its gospel-like litany of rules governing any screen-play, from the number of climaxes to their precise positioning; next came the computer programs for writing screenplays, most using a "fill-in-the-blank approach following the same reductive pattern of the "hero's journey," as extrapolated from Joseph Campbell's "Man of a Thousand Faces."
Thousands of screenplay hopefuls have been taught the same way–the scenes to begin with, the importance and placement of the indispensable 'plot points," the kind of closure guaranteed to send the audience out into of the theater more blinded by reality than ever but no less desirous of seeking another temporary escape. That's the business of the dream factory, and it would appear the reviewer's role has been reduced to little more than helping the reader decide if two dreams–the one that's been fabricated and the one that's awaiting illustration in the consumer's psyche–match up.
About the Author: Roger Ebert is the Pulitzer Prize-winning film critic from the Chicago Sun-Times. His reviews are syndicated to more than 200 newspapers in the United States and Canada. The American Film Institute and the School of the Art Institute of Chicago have awarded him honorary degrees, and the Online Film Critics Society named his Web site, RogerEbert.com, the best online movie-review site.
Author: Roger Ebert
Year of Release: 2008