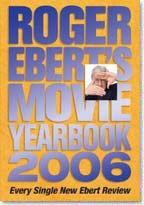 From his earliest days reviewing movies on TV in 1975, Roger Ebert has enjoyed success because he developed a special connection with viewers. His 'thumbs up' recommendation is part of the American lexicon.
Because he has been the most welcome of weekly guests in our homes for three decades, TelevisionWeek is proud to name Roger Ebert the recipient of our 2005 Syndication Personality Lifetime Achievement Award.
A Christmas tradition, I read this book all year long and reference the earlier books often as well when doing research, picking DVDs, what to stream, arguing with fellow movie buffs and often just for intelligent writing and interviews. is not the only critic that I read, but he is the one that I read religiously and after all these years I am sure of what he means when he writes a review. I am fond of the EW crtics but they are often at odds, and I can count on Mr. Ebert's books to steer me in the direction that best suits my taste.
About the Author: Roger Ebert is the Pulitzer Prize-winning film critic from the Chicago Sun-Times. His reviews are syndicated to more than 200 newspapers in the United States and Canada. The American Film Institute and the School of the Art Institute of Chicago have awarded him honorary degrees, and the Online Film Critics Society named his Web site, RogerEbert.com, the best online movie-review site.
Author: Roger Ebert
Year of Release: 2005