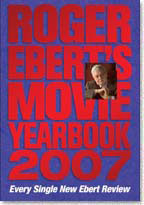 Roget Ebert's writing made him the first film critic to win the Pulitzer Prize for criticism, in 1975. In that year he also began reviewing films on television, on the show for which he was awarded his own star on the Hollywood Walk of Fame.
In his 2007 Yearbook, America's favorite movie critic assesses the year's films from Brokeback Mountain to Wallace & Gromit: The Curse of the Were-Rabbit. Roger Ebert's Movie Yearbook 2007 includes every review by Ebert written in the 30 months from January 2004 through June 2006 – about 650 in all.
Also included in the Yearbook, which is about 65 percent new every year, are:
All the new questions and answers from his Questions for the Movie Answer Man columns.
Daily film festival coverage from Cannes, Toronto, Sundance, and Telluride.
Essays on film issues and tributes to actors and directors who died during the year.
find Roger Ebert's reviews an indispensable resource for ordering video rentals. He'll always give you a good, well written summary and review of any recent movies you're interested in. This latest '07 edition matches the excellence you've come to expect in this series.
About the Author: Roger Ebert is the Pulitzer Prize-winning film critic from the Chicago Sun-Times. His reviews are syndicated to more than 200 newspapers in the United States and Canada. The American Film Institute and the School of the Art Institute of Chicago have awarded him honorary degrees, and the Online Film Critics Society named his Web site, RogerEbert.com, the best online movie-review site.
Author: Roger Ebert
Year of Release: 2006