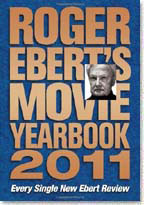 Pulitzer Prize-winning film critic Roger Ebert presents more than 500 full-length critical movie reviews, along with interviews, essays, tributes, journal entries, and Q and As from "Questions for the Movie Answer Man" inside Roger Ebert's Movie Yearbook 2011.
From Inglourious Basterds and Crazy Heart to Avatar, Fantastic Mr. Fox, and the South Korean sensation The Chaser, Roger Ebert's Movie Yearbook 2011. includes every movie review Ebert has written from January 2008 to July 2010.
Also included in the Yearbook are:
In-depth interviews with newsmakers such as Muhammad Ali and Jason Reitman.
Tributes to Eric Rohmer, Roy Disney, John Hughes, and Walter Cronkite.
Essays on the Oscars, reports from the Cannes Film Festival, and entries into Ebert's Little Movie Glossary.
Why is it that one would buy the new edition year after year? First off, unlike Leonard Maltin's, a good portion of the material is new. No problem having to skip all over the book in order to find something new to read.But most importantly to me, be them reviews about good movies, bad movies, exciting or boring, big or small, Roger Ebert's reviews always make for an excellent reading, often more fun than the movies themselves. Is the number of stars more or less accurate than those other critics assign? Who cares? After reading Ebert's reviews, I always come out knowing whether I should watch a film or not and that to me is the biggest service a film critic can provide.
About the Author: Roger Ebert is the Pulitzer Prize-winning film critic from the Chicago Sun-Times. His reviews are syndicated to more than 200 newspapers in the United States and Canada. The American Film Institute and the School of the Art Institute of Chicago have awarded him honorary degrees, and the Online Film Critics Society named his Web site, RogerEbert.com, the best online movie-review site.
Author: Roger Ebert
Year of Release: 2010