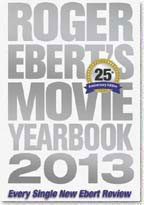 Pulitzer Prize–winning film critic Roger Ebert presents more than 600 full-length critical movie reviews, along with interviews, tributes, and journal entries inside Roger Ebert's Movie Yearbook 2013. It includes every movie review Ebert has written from January 2010 to July 2012.
Also included in the Yearbook are in-depth interviews with newsmakers and celebrities, tributes to those in the film industry who have passed away recently, and  essays on the Oscars, reports from the Toronto Film Festival, and entries into Ebert's Little Movie Glossary.
Roger Ebert is the gold standard for movie critics. And his Movie Yearbook has been the go-to source for movie lovers for more than 25 years. The New York Times said  that Roger Ebert's "criticism shows a nearly unequaled grasp of film history and technique, and formidable intellectual range."
About the Author: Roger Ebert is the Pulitzer Prize-winning film critic from the Chicago Sun-Times. His reviews are syndicated to more than 200 newspapers in the United States and Canada. The American Film Institute and the School of the Art Institute of Chicago have awarded him honorary degrees, and the Online Film Critics Society named his Web site, RogerEbert.com, the best online movie-review site.
Author: Roger Ebert
Year of Publication: 2012