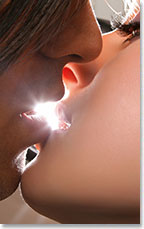 Kissing is as much a part of movies as car chases and suspense. All kinds of kisses have been captured on film, but there are worth remembering some than others. I'm taking a look at the most memorable kisses in film. Here are my 10 favorite big-screen kisses.
Pride and Prejudice (2005)
Mr. Darcy (Matthew Macfayden) and Elizabeth Bennett (Keira Knightley)
There have been numerous adaptations of the popular Jane Austen novel Pride and Prejudice, but this one stands out in particular because of the exceptional chemistry between actors Matthew Macfayden and Keira Knightley, which plays out in the romance between their characters. Mr. Darcy and Elizabeth Bennett don't kiss until the very end of the film, which is rife with sexual tension until the last few minutes. However, when they do kiss, it's worth the nearly two-hour wait.
Cruel Intentions (1999)
Sebastian Valmont (Ryan Phillippe) and Annette Hargrove (Reese Witherspoon)
This was the movie that sparked an off-screen romance between its two leads, Ryan Phillippe and Reese Witherspoon. Phillippe's Sebastian is a philandering, wealthy bad boy whose issues with his family make him nothing but trouble. Witherspoon's Annette is a classic good girl whose decision to save herself until marriage makes Sebastian all the more determined to get her into bed. Despite rooting against their relationship for most of the movie, we can't help but reel at how passionate and steamy their first kiss is.
Never Been Kissed (1999)
Josie Baker (Drew Barrymore) and Sam Coulson (Michael Vartan)
Drew Barrymore plays the underdog as Josie Geller, a 30-year-old woman whose first kiss is long overdue. On assignment from the newspaper where she works, Geller masquerades as a teenager and lives one of most people's worst nightmares: heading back to high school. Geller finds a love interest in her off-limits English teacher Sam (Michael Vartan), but she messes up her chances with him. She goes to extreme lengths to atone and at the end of the movie, you can breathe a sigh of relief as she receives both her first kiss and his forgiveness.
Love Actually (2003)
Juliet (Keira Knightley) and Mark (Andrew Lincoln)
There are few things more terrible in this world than unrequited love. The kissing scene in Love Actually illustrates that sensation with heartbreaking precision. Andrew Lincoln plays Mark, a man who has fallen in love with Juliet (Keira Knightley). Juliet is off limits because she doesn't return his feelings but because she has just married Mark's best friend. In this scene, Mark confesses his feelings for her with a series of cleverly designed posters. He also acknowledges the fact that he can't have, simultaneously breaking our hearts and hers because after he leaves, she runs after him and kisses him.
Ghost (1990)
Sam Wheat (Patrick Swayze) and Molly Jensen (Demi Moore)
The kiss between Demi Moore and Patrick Swayze in Ghost stands out as one of the sexiest in film. No, we're not referring to the kiss that prompts Moore's character to sleep with the spirit of her dead husband via the body of her current love interest. The kiss at the beginning of the film as Moore's character shapes a vase on a pottery wheel, Swayze's character sneaks up behind her, and the casual, chaste pecks they exchange quickly morph into a steamy make-out as he lifts her up and spins her around to the tune "Unchained Melody" by the Righteous Brothers.
Brokeback Mountain (2005)
Ennis Del Mar (Heath Ledger) and Jack Twist (Jake Gyllenhaal)
The kiss in this film is big in a number of ways. First, in its sheer force. It was so passionate in fact that Heath Ledger reportedly nearly broke Jake Gyllenhaal's nose while filming. The kiss also represents a major breakthrough for his character, Ennis Del Mar; prior to meeting Jack Twist, Ennis is shy and repressed, barely communicating more than a few grunts and mumbles, but when he and Jack are reunited after years away from Brokeback Mountain, he's so overcome that he can't help but slam him against a wall for the kiss.
The Notebook (2004)
Noah Calhoun (Ryan Gosling) and Allie Hamilton (Rachel McAdams)
A list of famous movie kisses would be incomplete without mention of this one. Ryan Gosling and Rachel McAdams star as Noah and Allie, former lovers who are reunited when Noah returns from war. Noah ferries Allie across a lake to his house while she, drenched from the pouring rain, demands why he didn't keep in touch with her while he was off fighting. When Noah tells her that he wrote her 365 letters, one for each day he was gone, we melt a little. When he grabs her and kisses her, all of the desire he'd pent up while he was gone apparent.
The Normal Heart (2013)
Felix Turner (Matt Bomer) and Ned Weeks (Mark Ruffalo)
This was probably my favorite movie of 2012 and one of my favorite love stories ever. The love between Felix and Ned is palpable. At the end (spoiler alert!), they get married on Felix's deathbed. In one of the film's final scenes, Ned sits with Felix in the hospital one last time. It is probably the single most heartbreaking scene I've ever seen on screen; Felix is out of time; Ned and Felix are out of time. They get married on Felix's deathbed. Your heart breaks. After they say their vows, they kiss.
Sixteen Candles (1984)
Sam Baker (Molly Ringwald) and Jake Ryan (Mike Schoeffling)
Sixteen Candles is sweet in all the right ways, and Molly Ringwald stars as Sam, a mousy high school girl who develops a crush on Jake (Mike Schoeffling). Jake is older and more popular than Sam could ever dream to be; therefore, he seems unattainable, which makes the film's ending when Sam finally snags him all the more exciting. Sam and Jake share their first kiss over her a cake lit with 16 candles for her birthday after a series of snafus that almost jeopardize their relationship. Their kiss is sweet and endearing and gives hope to every young girl.
Titanic (1997)
Jack Dawson (Leonardo DiCaprio) and Rose Bukater (Kate Winslet)
The romance between Leonardo DiCaprio and Rose Bukater's characters in this movie sweeps you off your feet. They are star-crossed lovers whose ultimately tragic relationship is so earnest that we can't help but root for them. This kiss takes place during one of the more tender and iconic moments of the film. Rose and Jack climb up to the top deck of the ship they've been sailing, and he kisses her just as the sun begins to rise. The man has game.
Spiderman (2002)
Peter Parker (Tobey Maguire) and Mary Jane Watson (Kirsten Dunst)
This kiss makes your heart melt but also defies gravity, making the scene one everyone seems to remember the most. Spiderman (Tobey Maguire) plants a wet one on his love interest Mary Jane Watson (Kirsten Dunst) in the rain after saving her from a group of thugs. The best part of this kiss is the fact that Spiderman kisses her as he hangs upside-down from a building, right after Mary Jane takes off his mask to reveal his true identity as Peter Parker.