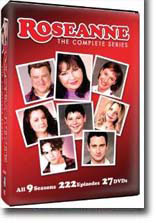 Roseanne is the story of a working class family struggling with life's essential problems: marriage, children, money and parents in law. A classic sitcom, the story circles around the Connor family – a family of five; DJ (Michael Fishman), Darlene (Sara Gilbert), Becky (Alicia Goranson), Roseanne (Roseanne Barr) and Dan (John Goodman).
The household's mother, Roseanne, is being accompanied in her quest to keep the family together by her sister Jackie (Laurie Metcalf) and various friends over the years.
Celebrate the hysterical banter, honest attitude and flat-out hilarity that broke all the rules and changed sitcom history forever! Praised by fans and critics for its realistic portrayal of the average American family, Roseanne and Dan's unconventional parenting methods entertained millions as they navigated through the ups and downs of blue-collar life with their children.
Wildly popular for its quick-witted comedy Roseanne also tackled controversial issues, this blend of life and laughs made the series a landmark in television history. Experience this ground-breaking Emmy Award Winning show ad the Conner clan generates oodles of laughter and side-splitting comedy.

Character to watch: Roseanne Barr as Roseanne Conner.
Journal your answers to the following questions after you watch the series.
How does this particular character's journey compare with yours?
Did the character develop certain characteristics during the movie that you have or that you would like to have? If so, what are those characteristics?
What obstacles did this character face? What was his or her biggest challenge?
What would you have done differently if you had been in the same position as the character?
Is this character the type of person you would be friends with? Why or why not?