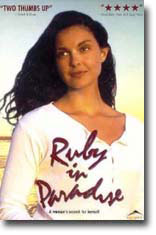 Florida-based independent filmmaker Victor Nunez gave young actress Ashley Judd her breakthrough role with his original script about a woman taking to the road to escape her past and forge a new future for herself.
Feeling smothered and confused after the death of her mother, Ruby Lee Gissing (Judd) flees her Tennessee home. She drives south to the panhandle of Florida, because she has always dreamed of living near the ocean.
Mildred Chambers (Dorothy Lyman), the owner of a souvenir shop, hires her as a clerk and befriends Ruby as well. Soon, there are two men in Ruby's life: Mike McCaslin (Todd Field) and Mildred's ne'er-do-well son, Ricky (Bentley Mitchum).
Although Ruby briefly succumbs to the advances of one of them, by the film's end, she is still on her own, understanding that a new chapter of her life is just beginning. An uncommon gem of a film, this story of a young woman finding herself is a marvelous sleeper.
Ruby is struggling and moves to a Florida beach town and tries as best she can to earn a living. She begins working in a clothing store and starts dating men, but after some hard choices realizes she must first figure out who she is and what she wants out of life before she settles for something less than she deserves.
Judd gives an astounding performance as a young woman whose quiet inner strength allows her to grow and gain confidence in the person she wants to be. Avoiding all the possible clichés and presenting a positive, realistic, and touching character portrait, Ruby in Paradise is a rare and worthwhile discovery.
Director: Victor Nunez
Year of Release: 1993

Character to watch: Ashley Judd as Ruby Lee Gissing.
Journal your answers to the following questions after you watch the movie.
How does this particular character's journey compare with yours?
Did the character develop certain characteristics during the movie that you have or that you would like to have? If so, what are those characteristics?
What obstacles did this character face? What was his or her biggest challenge?
What would you have done differently if you had been in the same position as the character?
Is this character the type of person you would be friends with? Why or why not?