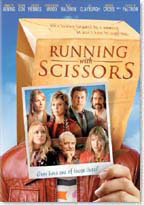 Based on Augusten Burroughs' memoir of the same name, the film is a semi-autobiographical account of Burroughs' childhood. His mother, Deidre (Annette Bening), who wishes to become a famous poet, suffers from severe mood swings and erratic behavior. And Augusten's alcoholic father Norman (Alec Baldwin) proves to be no help.
By the time he is a teenager, Burroughs (Joseph Cross) no longer feels safe in his own house. Deidre claims that Norman is the reason for her unhappiness, and that he desires to kill her and their son. His parents ultimately place him under the care of his mother's unorthodox psychiatrist Dr. Finch (Brian Cox), the eccentric patriarch of an oddball family. Which consists of his submissive wife Agnes (Jill Clayburgh), overtly-religious daughter Hope (Gwyneth Paltrow), and his rebellious youngest one Natalie (Evan Rachel Wood).
Augusten finds it hard to adjust to living in his unconventional surroundings among the doctor's family, and is subject to irregular weekend visits by his increasingly unsound mother. After confessing to Natalie that he is gay, Burroughs befriends Neil Bookman (Joseph Fiennes), Finch's adopted 33-year-old son. The two enter an erratic sexual relationship quickly after meeting, but Augusten finds it difficult to cope with their vast age difference.
Jill Clayburgh and Annette Benning should have received an Academy for their part in this. Brian Cox was fantastic. And Joseph Cross, as Augusten was absolutely perfect. I can't praise Cross enough and I don't think too many people would have been able to pull this character off. Knowing Burroughs from his books, you see he has a caustic yet self-deprecating wit. But, to actually SEE him as the child he was– maintaining his innocence while being exposed to horrendous circumstances he was exposed to actually made me appreciate Burroughs even more than I already do. Alec Baldwin, as always, played his brief part perfectly– with empathy and depth.
Burroughs grew up in one of the most dysfunctional homes you will ever read about. After his parents divorced, he lived with his mentally ill and completely narcissistic mother until she handed Augusten over to her just-as-mentally-ill psychiatrist to raise him. The environment in this psychiatrist's home has to be seen (or read about) to be believed. Poor Augusten lived there for several years while his mother attempted to "find herself" and nurture herself at her son's expense.
Director: Ryan Murphy
Year of Release: 2006

Character to watch: Joseph Cross as Augusten Burroughs.
Journal your answers to the following questions after you watch the movie.
How does this particular character's journey compare with yours?
Did the character develop certain characteristics during the movie that you have or that you would like to have? If so, what are those characteristics?
What obstacles did this character face? What was his or her biggest challenge?
What would you have done differently if you had been in the same position as the character?
Is this character the type of person you would be friends with? Why or why not?