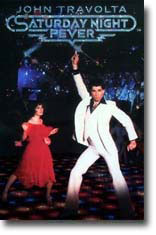 From John Travolta's electrifying performance to the Bee Gees' top 10 soundtrack to the unforgettable dancing, Saturday Night Fever is a movie sensation that captured the world's attention like never before.
Saturday Night Fever is one of those movies that comes along and seems to change the cultural temperature in a flash. The story is conventional: a 19-year-old Italian American from Brooklyn, Tony Manero (John Travolta), works in a humble paint store and lives with his family.
After dark, he becomes the polyester-clad stallion of the local nightclub; Tony's brother, a priest, observes that when Tony hits the dance floor, the crowd parts like the Red Sea before Moses. Director John Badham captures the electric connection between music and dance, and also the desperation that lies beneath Tony's ambitions to break out of his limited world.
The soundtrack, which spawned a massively successful album, is dominated by the disco classics of the Bee Gees, including "Staying Alive" (Travolta's theme during the strutting opening) and "Night Fever." The Oscar-nominated Travolta, plucked from the cast of Welcome Back, Kotter, for his first starring role, is incandescent and unbelievably confident, and his dancing is terrific. After the movie's release in 1977, disco ruled the dance floors, and a blow-dried member of a TV-sitcom ensemble became the hottest star in the U.S.
You can catch the fever all over again with this 30th Anniversary Special Collector's Edition that goes behind-the-scenes with special features on the history, culture and fashion of disco, the smash-hit soundtrack, an exclusive look at Hollywood legend John Travolta, and so much more. Now more than ever before, Saturday Night Fever is the one film that'll make you feel like dancing.
Director: John Badham
Year of Release: 1977

Character to watch: John Travolta as Tony Manero.
Journal your answers to the following questions after you watch the movie.
How does this particular character's journey compare with yours?
Did the character develop certain characteristics during the movie that you have or that you would like to have? If so, what are those characteristics?
What obstacles did this character face? What was his or her biggest challenge?
What would you have done differently if you had been in the same position as the character?
Is this character the type of person you would be friends with? Why or why not?