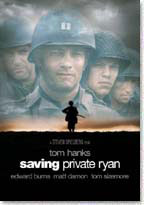 On the morning of June 6, 1944, the beginning of the Normandy invasion, American soldiers prepare to land on Omaha Beach. They struggle against dug-in German infantry, machine gun nests, and artillery fire, which cut down many of the men.
Captain John H. Miller (Tom Hanks), the company commander of Charlie Company, 2nd Ranger Battalion, survives the initial landing and assembles a group of soldiers to penetrate the German defenses, leading to a breakout from the beach.
In the United States Department of War in Washington, D.C., General George Marshall (Harve Presnell) is informed that three of four brothers in the Ryan family have all died within days of each other and that their mother will receive all three telegrams on the same day.
He learns that the fourth son, Private First Class James Francis Ryan (Matt Damon) of Baker Company, 506th Parachute Infantry Regiment, 101st Airborne Division is missing in action somewhere in Normandy. Marshall orders that Ryan be found and sent home immediately.
In France, three days after D-Day, Miller receives orders to find Ryan. He assembles six men from his company, Horvath (Tom Sizemore), Mellish (Adam Goldberg), Reiben (Edward Burns), Jackson (Barry Pepper), Wade (Giovanni Ribisi), and Caparzo (Vin Diesel), plus one detailed from the 29th Infantry Division, Upham (Jeremy Davies), a clerk who speaks fluent French and German, to accomplish the task. With no information about Ryan's whereabouts, Miller and his men move out to Neuville.
The squad finally arrives on the outskirts of Ramelle, where they come upon three paratroopers ambushing a German half-track. Among the paratroopers is Ryan. After entering Ramelle, Ryan is told of his brothers' deaths, and their mission to bring him home, and that two lives had been lost in the quest to find him. He is distressed at the loss of his brothers, but does not feel it is fair to go home.
Director: Steven Spielberg
Year of Release: 1998

Character to watch: Tom Hanks as Captain John H. Miller.
Journal your answers to the following questions after you watch the movie.
How does this particular character's journey compare with yours?
Did the character develop certain characteristics during the movie that you have or that you would like to have? If so, what are those characteristics?
What obstacles did this character face? What was his or her biggest challenge?
What would you have done differently if you had been in the same position as the character?
Is this character the type of person you would be friends with? Why or why not?