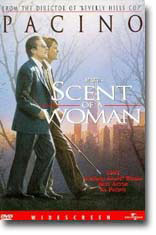 Al Pacino delivers the performance of a lifetime in Scent of a Woman, the heart wrenching and heart-warming film that was nominated for 4 Academy Awards including Best Picture. Hoping to earn extra money over the Thanksgiving weekend, Charlie Simms (Chris O'Donnell), a scholarship student at an exclusive prep school, agrees to look after blind, retired Lieutenant Colonel Frank Slade (Pacino).
The innocent and reserved Simms is immediately thrown off guard by Slade's bullying personality. Charlie is in for even more surprises when Slade takes off for a wild weekend in New York City that will change the lives of both men forever. Pacino won his first Academy Award playing the bitter yet brilliant blind man whose self-destructive nature hides a deep concern for his young guardian, as well as an old-fashioned romantic flair that makes him one of the most endearing and unforgettable characters to ever grace the screen.
The film became known for the phrase "Hoo-hah!" After seven Oscar nominations for his outstanding work in films such as The Godfather, Serpico, and Dog Day Afternoon it's ironic that Al Pacino finally won the Oscar for his grandstanding lead performance in this 1992 crowd pleaser.
As the blind, blunt, and ultimately benevolent Slade, Pacino is both hammy and compelling, simultaneously subtle and grandly over-the-top when defending his new assistant and prep school student Charlie (Chris O'Donnell) at a disciplinary hearing.
While the subplot involving Charlie's prep-school crisis plays like a sequel to Dead Poets Society, Pacino's adventurous escapades in New York City provide comic relief, rich character development, and a memorable supporting role for Gabrielle Anwar as the young woman who accepts the colonel's invitation to dance the tango.
Slade, an ardent admirer of the beauty of women, and an afficionado of the Tango, finds himself with an opportunity for a special moment, a situation, in which he proceeds to charm a sweet flower of a young woman, so well embodied in Donna, with his manner and his words. This scene embodies the beauty and delicacy of this very special movie.
Director: Martin Brest
Year of Release: 1992

Character to watch: Al Pacino as Lieutenant Colonel Frank Slade.
Journal your answers to the following questions after you watch the movie.
How does this particular character's journey compare with yours?
Did the character develop certain characteristics during the movie that you have or that you would like to have? If so, what are those characteristics?
What obstacles did this character face? What was his or her biggest challenge?
What would you have done differently if you had been in the same position as the character?
Is this character the type of person you would be friends with? Why or why not?