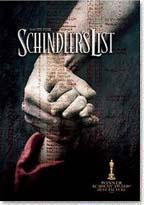 Schindler's List is a true story of Nazi Czech business man Oskar Schindler (Liam Neeson), who uses Jewish labor to start a factory in occupied Poland in 1939. Schindler, a member of the Nazi Party, bribes the SS officials. Sponsored by the military, he uses his factory for the production of army mess kits. Not knowing much about how to run such an enterprise, he gains a collaborator, Itzhak Stern (Ben Kingsley), a Jewish businessman.
Jewish workers in Schindler's factory are allowed outside the ghetto, and Stern ensures that as many people as possible are deemed essential to the German war effort, thus saving them from being transported to concentration camps or killed. As World War II progresses, and the Jews are moved to concentration camps, Schindler's motivations switches from profit to sympathy and he decides to do whatever he can to save as many Jews as possible from death in the gas chambers.
Schindler's List is my favorite historical drama of all-time for a number of reasons. Not only is it a masterpiece from a cinematic point of view, but it is priceless for the story it tells to the world.
First of all, the acting is superb. Liam Neeson does well as Oskar Schindler, but in particular I liked Ben Kingsley (as Istak Stern, Schindler's accountant) and Ralph Fiennes (as Amon Goeth, the camp commandant). All of the performances were very convincing and reflect the good casting.
Another great feature of this film is the soundtrack. Slow, soaring music tells of the painful circumstances of the Jews and of their conflict with the Nazi regime. Mixed in with the instrumental pieces are Jewish melodies which also gave me a sense of the cultural traditions of the Jewish people.
From a technical point of view, the decision by director Spielberg to shoot the movie is black-and-white was a good one. In fact, I think it makes the movie better than it would have been in color.
The few color segments throughout the movie are aptly placed and help to focus the viewer's attention on particular details through the eyes of Schindler. The scenery and photography were excellent compared to other movies I have seen and contribute to the whole atmosphere of the 1940s. Some people may be put off a bit by the length (over 3 hours) but believe me, every minute is worthwhile. Unlike other long movies, there are no lulls or useless scenes — everything counts.
Director: Steven Spielberg
Year of Release: 1993

Character to watch: Liam Neeson as Oskar Schindler.
Journal your answers to the following questions after you watch the movie.
How does this particular character's journey compare with yours?
Did the character develop certain characteristics during the movie that you have or that you would like to have? If so, what are those characteristics?
What obstacles did this character face? What was his or her biggest challenge?
What would you have done differently if you had been in the same position as the character?
Is this character the type of person you would be friends with? Why or why not?