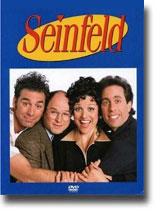 No show captured the eccentricities of New York like the Larry David-created sitcom Seinfeld. Helping to define America's view of New Yorkers, the series gained endless fans over its nine season run.
Though it wasn't the first show to assert the rudeness of Gotham's citizens, its characters are selfish to a fault–not that there's anything wrong with that.Self-obsessed comedian Jerry Seinfeld is joined in the cast by his neurotic ex-girlfriend, Elaine (Julia Louis-Dreyfus); his chronically lazy pal, George (Jason Alexander); and Cosmo Kramer (Michael Richards), who takes the sitcom cliche of the weird neighbor to impressive new heights. Despite their faults (or perhaps because of them), they're some of the most hilariously watchable characters in television history. The entire series is presented here.
Seinfeld can basically be broken into three parts – seasons one and two where the series is just finding itself, seasons three through seven in which absolutely everything clicks due to the cast's great on-screen rapport and the genius of Larry David, and the last two seasons after Larry David's departure in which the focus shifted somewhat from a satirical look at the uglier side of human nature to zany comedy.
Usually every episode was a stand-alone. In fact, some of the early episodes are so stand-alone as to have the audience wonder what happened. In season two's "The Deal", Elaine and Jerry decide to try combining their current friendship ("this") with their past by sleeping together ("that").
As George portends though, it is pretty much impossible to mix "this and that" without eventually losing both. The end of the episode shows Jerry and Elaine pretty much settling into "this that and the other" – a romantic relationship – and then the series just drops the subject like the whole episode never happened.

Character to watch: Michael Richards as Cosmo Kramer.
Journal your answers to the following questions after you watch the series.
How does this particular character's journey compare with yours?
Did the character develop certain characteristics during the movie that you have or that you would like to have? If so, what are those characteristics?
What obstacles did this character face? What was his or her biggest challenge?
What would you have done differently if you had been in the same position as the character?
Is this character the type of person you would be friends with? Why or why not?