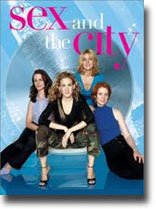 A sensuous and ironic sitcom about four young, desirable, virtually inseparable New York bachelorettes who lead and confide in each-other their ever changing and confusing sex lives, as different as their natures.
Carrie Bradshaw is a charming petite columnist, and often the narrator of the story, either writing her copy or off screen, constantly tossing up and rejecting different views on just about anything that does or might impact modern women's sex lives; she tries almost everything, is constantly disappointed, but always seems to return to a certain Mr. Big. Miranda Hobbes is a red-hair lawyer determined to score professionally and to be tough in love to, yet her only faithful lover is an insecure nerd.
Charlotte York is a gallery-managing wasp from a prestigious, super-rich family, with high old-fashioned moral standards for her lovable but insecure self but unfortunately almost impossible to live up to for any lover, whenever she can find a socially acceptable one, Samantha.Now you can achieve multiple viewings of the best Sex on TV. Winner of Golden Globes for Best TV Series and Best Actress, Sex and the City is based on Candace Bushnell's provocative bestselling book. Sarah Jessica Parker stars as Carrie Bradshaw, a self-described "sexual anthropologist," who writes "Sex and the City," a newspaper column that chronicles the state of sexual affairs of Manhattanites in this "age of un-innocence."
Her "posse," including nice girl Charlotte (Kristin Davis), hard-edged Miranda (Cynthia Nixon), and party girl Samantha (Kim Cattrall)–not to mention her own tumultuous love life–gives Carrie plenty of column fodder. Over the course of the first season's 12 episodes, the most prominent dramatic arc concerns Carrie, who goes from turning the tables on "toxic bachelors" by having "sex like a man" to wanting to join the ranks of "the monogamists" with the elusive Mr. Big (Chris Noth).
Meanwhile, Miranda, Cynthia, and Samantha have their own dating woes, few of which can be described on a family Web site. Seinfeld has nothing on Sex and the City when it comes to shallow, self-absorbed characters or coining catch phrases. Episode 2, for example, introduces the term "modelizer": a guy who is obsessed with and will only date models. Some may accuse this series of male bashing.
But women, after years of enduring shows with "men behaving badly," will relish the equal time. Some may blanch at the ladies' graphic language and ribald humor, or dismiss some of the situations as unrealistic (Carrie doesn't bat an eye when she discovers that an artist friend surreptitiously videotapes his sexual conquests). Still others will view Sex and the City as documentary. Regardless of your view, this groundbreaking series will have you longing for more.

Character to watch: Sarah Jessica Parker as Carrie Bradshaw.
Journal your answers to the following questions after you watch the series.
How does this particular character's journey compare with yours?
Did the character develop certain characteristics during the movie that you have or that you would like to have? If so, what are those characteristics?
What obstacles did this character face? What was his or her biggest challenge?
What would you have done differently if you had been in the same position as the character?
Is this character the type of person you would be friends with? Why or why not?