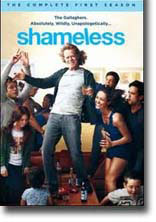 Meet Frank Gallagher (William H. Macy): proud, working-class patriarch to a motley brood of six smart, spirited and independent kids who, without him, would be better off. In Frank's booze-addled view, parenting just eats into his hard-earned bar-crawling and carousing time around Chicago so he leaves it to eldest daughter Fiona (Emmy Rossum) to hold down the fort.
Bearing the de facto parent badge/burden, she's donned the proverbial apron and makes sure her younger siblings do their chores, keep a clean(ish) home and feed the kitty, the Gallagher family fund jar, because the gas bill is due, and everyone (no matter how small) works to keep the house lights on, as well as food on the table.Brothers Lip, Ian and Carl use their intellect to break every rule in the book to survive and make the bank, while younger sister Debbie would sooner steal her share. The Gallaghers are irreverent, endearing, resilient and they're absolutely, wildly and unapologetically Shameless.These (and various others in the sizable cast) are the folks who, we're told, put the "fun" in dysfunctional, and along with a steady dose of raunch (nudity, sexuality, and profanity all flow as freely as the liquor at Frank's favorite bar) and serious issues such as school bullying, cancer, suicide, prison, and Ian's burgeoning homosexuality, Shameless does have a darkly comedic sensibility.
Perhaps most striking is that the kids, against all odds, are generally far more mature and sensible than the grownups, who also include Frank's agoraphobic girlfriend Sheila (Joan Cusack), her very snarky husband, Ian's older lover (who happens to have a wife and children), and various others of questionable character. Indeed, it's the younger Gallaghers, not Frank, who are the most dedicated to keeping the family together, and the grit, determination, and guile they use to do that are Shameless's heart and soul.

Character to watch: William H. Macy as Frank Gallagher.
Journal your answers to the following questions after you watch the series.
How does this particular character's journey compare with yours?
Did the character develop certain characteristics during the movie that you have or that you would like to have? If so, what are those characteristics?
What obstacles did this character face? What was his or her biggest challenge?
What would you have done differently if you had been in the same position as the character?
Is this character the type of person you would be friends with? Why or why not?