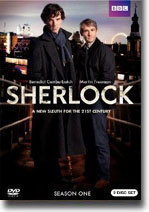 A contemporary take on the classic Arthur Conan Doyle stories, Sherlock is a thrilling, funny, fast-paced adventure series set in present-day London. Co-created by Steven Moffat and Mark Gatiss, Sherlock stars BAFTA-nominee Benedict Cumberbatch as the new Sherlock Holmes and Martin Freeman, as his loyal friend, Doctor John Watson.
Rupert Graves plays Inspector Lestrade. The iconic details from Conan Doyle's original books remain–they live at the same address, have the same names and, somewhere out there, Moriarty is waiting for them. And so across three thrilling, scary, action-packed and highly modern-day adventures, Sherlock and John navigate a maze of cryptic clues and lethal killers to get at the truth.
In the wake of Guy Ritchie's reimagining, the BBC puts its own stamp on Arthur Conan Doyle's sleuth–and sets him in a London filled with cell phones and laptops. In the pilot, director Paul McGuigan (a keen visual stylist) introduces Sherlock Holmes (Benedict Cumberbatch) as a "high-functioning sociopath" and Dr. John Watson (Martin Freeman) as an army veteran with posttraumatic stress disorder.Through a mutual friend, the two become flatmates at 221B Baker Street (Una Stubbs plays their landlady). Holmes, who consults with Scotland Yard inspector Lestrade (Rupert Graves) on his trickier cases, drafts Watson to assist him.
In "Study in Pink," four people commit suicide by poison. When Holmes sets out to establish a link, he falls right into the culprit's clutches. Other cases concern a smuggling operation ("The Blind Banker") and a mad bomber ("The Great Game").
Though he doesn't make a formal entrance until episode three, an infamous figure from Sherlock's future has a hand in each mystery, while the detective's brother, Mycroft (co-creator Mark Gatiss), first appears when he tries to hire Watson for a case of his own, an offer that gives the good doctor pause. Through his job at a medical office, Watson also meets Sarah (Zoe Telford), who becomes his girlfriend.
Part of the fun of Jeremy Brett's Holmes came from the period details, so this update takes a little getting used to–as does the occasional mumbled line–but Cumberbatch and Freeman share an enjoyable Odd Couple rapport, marked by flashes of deadpan wit, which compensates for the absence of deerstalker caps (Holmes favors scarves) and journals (Watson maintains a website). Extras include commentary on the finale, the original pilot, and a featurette, in which cocreator Steven Moffat notes that Cumberbatch was his only choice for the title role.

Character to watch: Martin Freeman as Doctor John Watson.
Journal your answers to the following questions after you watch the series.
How does this particular character's journey compare with yours?
Did the character develop certain characteristics during the movie that you have or that you would like to have? If so, what are those characteristics?
What obstacles did this character face? What was his or her biggest challenge?
What would you have done differently if you had been in the same position as the character?
Is this character the type of person you would be friends with? Why or why not?