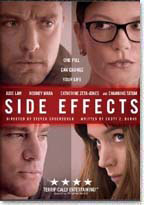 A young woman's world unravels when a drug prescribed by her psychiatrist has unexpected side effects. After being reunited with her husband (Channing Tatum) after his release from prison, Emily Taylor (Rooney Mara) becomes severely depressed with emotional episodes and suicide attempts.
Jonathan Banks (Jude Law), her psychiatrist, eventually prescribes an experimental new medication called Ablixa, for which he is receiving a financial incentive. The side effects of the drug lead to Emily killing her husband while sleepwalking. Emily is brought to trial, and Jonathan fights for her acquittal on the grounds that is was not her fault.
He is criticized publicly for bumbling Emily's case, and his colleagues accuse him of negligence due to his heavy work-load. Emily eventually agrees to plead guilty by reason of insanity and she is declared not guilty on the condition that she remains in a mental institution until cleared by her psychiatrist.
Side Effects is a film you can't really describe without giving anything away. Avoid the trailers if possible, make it through the slow build up and you will get quite a few surprises in the second half. Easily one of the best thrillers I have seen in a long time.
Jude Law in his best performance in years as a psychiatrist and Rooney Mara, fresh off of The Girl with the Dragon Tattoo, knocks it out of the park again as his depressed patient. She has become one of my favorite actresses. Catherine Zeta-Jones is effective and Channing Tatum has little to do, but is adequate enough. Never boring and often surprising, if this is Steven Soderbergh's last movie, he went out at the top of his game.
Director: Steven Soderbergh
Year of Release: 2013

Character to watch: Rooney Mara as Emily Taylor.
Journal your answers to the following questions after you watch the movie.
How does this particular character's journey compare with yours?
Did the character develop certain characteristics during the movie that you have or that you would like to have? If so, what are those characteristics?
What obstacles did this character face? What was his or her biggest challenge?
What would you have done differently if you had been in the same position as the character?
Is this character the type of person you would be friends with? Why or why not?