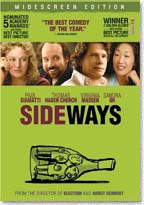 Struggling novelist and wine connoisseur Miles (Paul Giamatti) takes his best friend Jack (Thomas Haden Church) on a wine-tasting tour of California vineyards for a kind of extended bachelor party. Almost immediately, Jack's insatiable need to sow some wild oats before his marriage leads them in into double-dates with a rambunctious wine pourer (Sandra Oh) and a recently divorce waitress named Maya (Virginia Madsen).
Maya works at Miles's favorite restaurant, The Hitching Post, and her friend, Stephanie (Sandra Oh), is an employee at a local winery. They arrange a double date without revealing that Jack is to be married. Jack has an affair with Stephanie while Miles and Maya connect. Miles accidentally tells Maya that Jack is to be married. Enraged by the dishonesty, Maya dumps Miles and tells Stephanie, who breaks Jack's nose using her motorcycle helmet.
The self-aware guy is Miles (the lovable schlub Paul Giamatti), a recently divorced middle school English teacher who's having a difficult time getting his novel published . . . or even explained. Miles is awash in bitterness, but he knows deep down that he's a sweet guy once you get past the sour layers (of which there are many).
The ignorant guy is Jack (Thomas Hayden Church), Miles' freshman roommate from San Diego State and a mildly successful actor. Jack is one of those guys who should be thankful for the successes he has, but is incapable of doing so because by accepting a given success, he is placing a ceiling on his dreams.
Director: Alexander Payne
Year of Release: 2004

Character to watch: Paul Giamatti as Miles
Journal your answers to the following questions after you watch the movie.
How does this particular character's journey compare with yours?
Did the character develop certain characteristics during the movie that you have or that you would like to have? If so, what are those characteristics?
What obstacles did this character face? What was his or her biggest challenge?
What would you have done differently if you had been in the same position as the character?
Is this character the type of person you would be friends with? Why or why not?