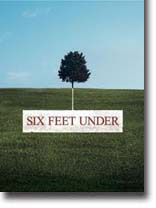 The Fishers are your typical dysfunctional family. Ruth (Frances Conroy) is the stern matriarch who has trouble expressing emotion and snaps at the slightest problem. Daughter Claire (Lauren Ambrose) is an underachiever who cultivates a moody, mysterious loner image in high school (she's indulging in illegal substances too).
Brother David (Michael C. Hall) works in the family business, and is uptight beyond belief (he's indulging in a secret homosexual relationship too). Elder brother Nate (Peter Krause) is the black sheep, who, eschewing responsibility, fled to Seattle but got lured back.
Their Dad (Richard Jenkins) watches it all bemusedly and he's dead. Oh, and that the Fisher family business is a funeral home? It might sound off-putting, but coming from the mind of Alan Ball, the man who strip-mined suburban life to find the mordant wit underneath in American Beauty, Six Feet Under is a trenchant, stylish spin on standard family dysfunction.
This HBO series initially aspired to fits of Twin Peaks-like whimsy, with each episode starting with a death more outlandish than the previous, but soon settled into a comfortable groove that harkened back to the most familiar of TV family dramas (in fact, it's almost a mirror image of '70s drama Family, down to the three sibling archetypes).
Of course, its HBO roots allowed it ample leeway with sex, drug usage, profanity, and violence. While the writing strove to be a little too clever, the overall look and tone of the show remained solid and sometimes profound (sometimes absurd too, but usually with good reason).
Krause and Hall, as initially warring brothers who come to a wary understanding, are solid anchors, but it's the women in the cast who do the most phenomenal work. Conroy infuses her almost stereotypical mom with an obstinate but ultimately accepting heart, and Ambrose's Claire is by far the show's most appealing character.
Stealing scenes left and right is Rachel Griffith's Brenda, a mystery woman with an outlandish backstory who meets Nate on a plane, has sex with him at the airport, and infiltrates his life. Like Brenda herself, Six Feet Under is fascinating and highly addictive.

Character to watch: Michael C. Hall as David Fisher.
Journal your answers to the following questions after you watch the series.
How does this particular character's journey compare with yours?
Did the character develop certain characteristics during the movie that you have or that you would like to have? If so, what are those characteristics?
What obstacles did this character face? What was his or her biggest challenge?
What would you have done differently if you had been in the same position as the character?
Is this character the type of person you would be friends with? Why or why not?