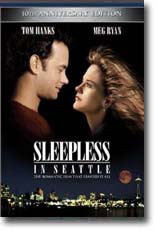 This hugely popular romantic comedy about a recently engaged woman (Meg Ryan) who hears the sad story of a grieving widower (Tom Hanks) on the radio and believes that they're destined to be together. She's single in New York, he lives in Seattle with a young son, but the cross-country attraction proves irresistible, and pretty soon Meg's on a westbound flight.
What happens from there is a sweet and cheesy tale of a romantic fait accompli, and more than a little contrivance to the subplots that threaten to keep Hanks and Ryan from actually meeting. But the purity of star chemistry here is hard to deny, and this may be the first film to indicate the more serious and sympathetic side of Hanks that is revealed in later roles.
With its clever jokes about "chick movies" and repeated homage to the classic weeper An Affair to Remember, this may not be everybody's brand of amorous entertainment, but it's got an old-Hollywood charm that appeals to many a movie fan.
Hanks stars as Sam Baldwin, a widowed father who, thanks to the wiles of his worried son, becomes a reluctant guest on a radio call-in show. He's an instant hit with thousands of female listeners who deluge his Seattle home with letters of comfort.
Meanwhile, inspired in equal parts by Sam's story and by classic Hollywood romance, writer Annie Reed (Ryan) becomes convinced that it's her destiny to meet Sam. There are just two problems: Annie's engaged to someone else and Sam doesn't know yet that they're made for each other.
Director:  Nora Ephron
Year of Release: 1993

Character to watch: Meg Ryan as Annie Reed.
Journal your answers to the following questions after you watch the movie.
How does this particular character's journey compare with yours?
Did the character develop certain characteristics during the movie that you have or that you would like to have? If so, what are those characteristics?
What obstacles did this character face? What was his or her biggest challenge?
What would you have done differently if you had been in the same position as the character?
Is this character the type of person you would be friends with? Why or why not?