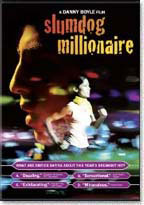 In Mumbai in 2006, eighteen-year-old Jamal Malik (Dev Patel), a former street child (child Ayush Mahesh Khedekar, adolescent Tanay Chheda) from the Juhu slum, is a contestant on the Indian version of Who Wants to Be a Millionaire?   He is one question away from the grand prize. However, before the 20 million question, he is detained and interrogated by the police, who suspect him of cheating because of the impossibility of a simple "slumdog" with very little education knowing all the answers.
Jamal recounts, through flashbacks, the incidents in his life which provided him with each answer. These flashbacks tell the story of Jamal, his brother Salim (adult Madhur Mittal, adolescent Ashutosh Lobo Gajiwala, child Azharuddin Mohammed Ismail), and Latika (adult Freida Pinto, adolescent Tanvi Ganesh Lonkar, child Rubina Ali). In each flashback
Jamal has a point to remember one person, or song, or different things that lead to the right answer of one of the questions. The row of questions does not correspond chronologically to Jamal's life, so the story switches between different periods (childhood, adolescence) of Jamal. Some questions do not refer to points of his life (cricket champion), but by witness he comes to the right answer.
We are introduced in the opening moments to the young adult Jamal, played by Dev Patel. He is a contestant on the Indian version of Who Wants To Be A Millionaire and has just answered the ten million rupee question prior to the end of the show. His next question will be worth twenty million rupees, an unimaginable fortune to the average Indian.
The arrogant, primping star of the show, played with artificial charm concealing an oily narcissism by Anil Kapoor, cannot stand that young Jamal is stealing some of his spotlight, and believes that the young, uneducated "slumdog" is cheating. (One of the key sequences involves the host "proving" to himself that Jamal MUST be cheating.) Jamal has been handed over to the police, who torture him to make him confess his deception. This moment in Jamal's life frames the rest of the film, told in flashback, and explains the torturous road that allowed Jamal to answer even the most difficult questions.
Director: Danny Boyle
Year of Release: 2009

Character to watch: Dev Patel as Jamal.
Journal your answers to the following questions after you watch the movie.
How does this particular character's journey compare with yours?
Did the character develop certain characteristics during the movie that you have or that you would like to have? If so, what are those characteristics?
What obstacles did this character face? What was his or her biggest challenge?
What would you have done differently if you had been in the same position as the character?
Is this character the type of person you would be friends with? Why or why not?