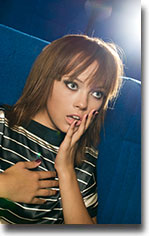 Social anxiety disorder, also called social phobia, is an anxiety disorder in which a person has an excessive and unreasonable fear of social situations. Anxiety (intense nervousness) and self-consciousness arise from a fear of being closely watched, judged, and criticized by others.
A person with social anxiety disorder is afraid that he or she will make mistakes, look bad, and be embarrassed or humiliated in front of others. The fear may be made worse by a lack of social skills or experience in social situations. The anxiety can build into a panic attack.
As a result of the fear, the person endures certain social situations in extreme distress or may avoid them altogether. In addition, people with social anxiety disorder often suffer "anticipatory" anxiety — the fear of a situation before it even happens — for days or weeks before the event. In many cases, the person is aware that the fear is unreasonable, yet is unable to overcome it.
Symptoms of Social Anxiety Disorder
Many people with social anxiety disorder feel that there is "something wrong," but don't recognize their feeling as a sign of illness. Symptoms of social anxiety disorder can include:
Fear of situations in which you may be judged
Worrying about embarrassing or humiliating yourself
Concern that you'll offend someone
Intense fear of interacting or talking with strangers
Fear that others will notice that you look anxious
Fear of physical symptoms that may cause you embarrassment, such as blushing, sweating, trembling or having a shaky voice
Avoiding doing things or speaking to people out of fear of embarrassment
Avoiding situations where you might be the center of attention
Having anxiety in anticipation of a feared activity or event
Spending time after a social situation analyzing your performance and identifying flaws in your interactions
Expecting the worst possible consequences from a negative experience during a social situation
Films With Social Anxiety Disorder
There have been a number of movies with characters with social anxiety disorder. The following films contain a character with social anxiety disorder that depicts the condition in a realistic manner. Each film also provides a foundation for a good Cinema Therapy experience due to directorial style, character development, casting, and production quality. New releases will be added to the list below so return if this topic is of interest to you.
Elling (2001)
Shrek (2001)
Adaptation (2002)
Stanley & Iris (1990)
Bubble (2005)
Ali's Eight Days (2009)
The King's Speech (2010)
Nerve (2011)
Mr. Robot (2015, TV series)
Waiting (2005)
Ordinary People (1980)
Eternal Sunshine of the Spotless Mind (2004)
Punch Drunk Love (2002)
Amelie (2001)
Clockwatchers (1997)
The Net (1995)
Now, Voyager (1942)
Napoleon Dynamite (2004)
Lars and the Real Girl (2007)
Harold and Maude (1971)
The 40-Year-Old Virgin (2005)
What About Bob? (1991)
Girl, Interrupted (1999)
Roger Dodger (2002)
Snow Cake (2006)
Copycat (1995)
Adam (2009)
Speak (2004)
The Perks of Being a Wallflower (2012)
A Beautiful Mind (2001)
Dead Poets Society (1989)
As Good as It Gets (1997)
Analyze This (1999)
The Aviator (2004)