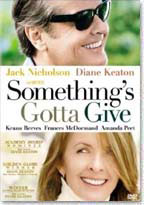 Harry Sanborn (Jack Nicholson) is a wealthy New York music mogul who only dates women under 30, including his latest girlfriend, Marin Klein (Amanda Peet). The two drive to her mother's Hamptons beach house for an intimate weekend, but are surprised by Marin's mother, successful playwright Erica Barry (Diane Keaton), who is there with her sister Zoe (Frances McDormand).
After they all have dinner together, the night turns into a disaster.  During foreplay with Marin,  Harry has a heart attack and is rushed to a hospital. The doctor on call, Julian Mercer (Keanu Reeves), tells Harry to stay nearby for a few days, so Harry ends up staying at the beach house with Erica.
Their personalities clash and make for awkward living arrangements. However, once they get to know each other, they find they are attracted to each other. The fact that Harry is dating her daughter and that Julian has fallen for Erica leave the two struggling to deal with how to handle the various relationships.
Something's Gotta Give is one of the year's best films and best comedies as it teams up Jack Nicholson and Diane Keaton, who seemed to love every minute they shared onscreen. Nicholson plays a man who only dates girls under 30 and is shocked to find he can fall in love with a woman his own age, played by Diane Keaton, who has never looked better. She gives her best performance since she won an Oscar for Annie Hall and should be on her way to another as a very career successful woman who has no confidence with men.
It is great to see her reaction to both Nicholson's and Keanu Reeves' character. Nicholson and Keaton light up the screen with every scene they are in and Amanada Peet and Reeves do very well in their supporting role, as does the underused Frances McDormand as Keaton's sister. Nancy Meyers, who had a huge hit with What Women Want, does a much better job here and makes for a great adult romantic comedy featuring actors over 50. A great film that will be remembered.
Director: Director: Nancy Meyers
Year of Release: 2003

Character to watch: Diane Keaton as Erica Barry.
Journal your answers to the following questions after you watch the movie.
How does this particular character's journey compare with yours?
Did the character develop certain characteristics during the movie that you have or that you would like to have? If so, what are those characteristics?
What obstacles did this character face? What was his or her biggest challenge?
What would you have done differently if you had been in the same position as the character?
Is this character the type of person you would be friends with? Why or why not?