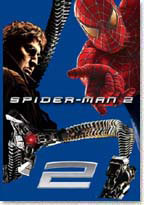 Peter Parker (Tobey Maguire) gives up his crime-fighting identity of Spider-Man in a desperate attempt to return to ordinary life and keep the love of MJ (Kirsten Dunst). But a ruthless, terrifying new villain, the multi-tentacled Dr. Octavius "Ock" (Alfred Molina), forces Peter to swing back into action to save everything he holds close.
Ock, having a dream of creating fusion power, needs tritium for his reactor, and goes to Peter's best friend Harry Osborn (James Franco), to get it. Harry agrees to give Ock all the tritium he possesses in exchange for bringing Spider-Man to him, and tells him that Peter, who is supposedly good friends with Spider-Man, is the key to finding him. Ock finds Peter and tells him to find Spider-Man, and abducts Mary Jane in the process.
The story takes place two years after the original where Parker is struggling with the realization that his superhero alter-ego is alienating him from everyone that he loves. His best friend, Harry is stewing over his father's death at the hands of Spidey and the object of his affections, Mary Jane is fed up by Peter's inability to commit to her.
Peter's commitment to crime fighting has cost him more than a few jobs and he's struggling to pay his rent. On the Spider-Man side of things, he has to deal with a new enemy, Doc Ock is driving him insane. As far as super-villians go, this one's a doosy.
The best part of this film may be the revelation of Spidey's identity to Mary-Jane. This is the culmination of two films of heart-ache in the romance between Peter and Mary, and the release that is felt when Mary-Jane realizes the truth is palpable. Actually, that's one of the better screen moments that I can remember. Poor, foolish, noble Spidey has been trying to protect Mary-Jane…but it's true that something as powerful as love can destroy you if you try to bottle it up.
Director: Sam Raimi
Year of Release: 2004

Character to watch: Alfred Molina as Dr. Otto Octavius.
Journal your answers to the following questions after you watch the movie.
How does this particular character's journey compare with yours?
Did the character develop certain characteristics during the movie that you have or that you would like to have? If so, what are those characteristics?
What obstacles did this character face? What was his or her biggest challenge?
What would you have done differently if you had been in the same position as the character?
Is this character the type of person you would be friends with? Why or why not?