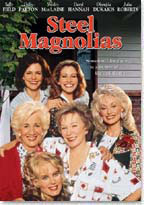 Annelle Dupuy (Daryl Hannah), a recent beauty school graduate, is hired by Truvy Jones (Dolly Parton) to work in her home-based beauty salon. M'Lynn Eatenton (Sally Field), a good friend of Truvy's, and her daughter, Shelby (Julia Roberts), arrive at Truvy's to prepare for Shelby's wedding, which is taking place later that day.
Also arriving at the salon are Ouiser (pronounced "Weezer" or "Weeza") Boudreaux (Shirley MacLaine), a grouchy, two-time widow, and Clairee Belcher (Olympia Dukakis), also a widow, who is cheerful and enjoys taking cracks at Ouiser whenever possible. During an argument with her mother over whether or not she should bear a child, Shelby, who has type one diabetes, falls into a state of hypoglycemia, but she recovers quickly with some orange juice provided by her mother and the other women in the salon.
Several months pass, and Shelby announces to her family that she and her husband Jackson (Dylan McDermott) are expecting their first child. The family are thrilled but, M'Lynn is far too worried that Shelby's body may not be able to withstand childbirth to think anything positive about it. Shelby is successfully delivered of a baby boy, Jackson Jr. However, several months later Shelby begins showing signs of kidney failure and starts dialysis. M'Lynn offers to donate a kidney to her daughter and the transplant takes place the day after Jackson Jr's first birthday.
MacLaine and Roberts were later nominated for an Academy Award as best actress in a supporting role; a split vote probably cost both an Oscar. My own opinion is that Field, Dukakis, and Hannah were equally deserving of that nomination. In terms of plot, not a great deal happens. The film's energy is established and then sustained by the interactions between and among the five older women.
Keep in mind that this was originally a play whose plot focused almost entirely on the shared experiences of those women. Some of the scenes are hilarious, with MacLaine and Dukakis primarily responsible. However, the film also includes one extended situation which has a genuinely sad conclusion. The acting is first-rate throughout.
Director: Herbert Ross
Year of Release: 1989

Character to watch: Julia Roberts as Shelby Eatenton Latcherie.
Journal your answers to the following questions after you watch the movie.
How does this particular character's journey compare with yours?
Did the character develop certain characteristics during the movie that you have or that you would like to have? If so, what are those characteristics?
What obstacles did this character face? What was his or her biggest challenge?
What would you have done differently if you had been in the same position as the character?
Is this character the type of person you would be friends with? Why or why not?