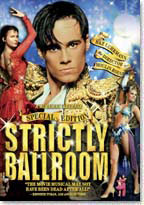 Australian ballroom dancer Scott Hastings (Paul Mercurio) is struggling to establish his personal style of dance in his way to win the Pan-Pacific Grand Prix Dancing Championship. Despite Scott's background, his steps to stardom are not strictly ballroom. Scott comes from a family with a history of ballroom dancing and has been training since childhood. Scott's mother Shirley (Pat Thomson) teaches ballroom dancing, and his father Doug (Barry Otto) meekly handles maintenance chores at the dance studio.
After losing a competition to a rival pair, his dancing partner Liz Holt (Gia Carides) leaves him for another dancer. With only weeks before the next Pan-Pacific competition, try-outs begin to find Scott a new dance partner but, unknown to his parents, Scott secretly begins rehearsing with frumpy outsider Fran (Tara Morice), a novice dancer at his parents' studio.
Scott is initially skeptical, but when Fran introduces Spanish steps into their routine, Scott realizes she has potential. He walks her home one night and finds her Spanish gypsy family living in a tiny home next to the railway tracks, where Fran's family show him the authentic Spanish dancing style. As their rehearsals progress, Fran grows more self-confident and attractive.
Scott begins spending all his time rehearsing with Fran at her house, until Barry Fife (Bill Hunter), the conniving president of the Australian Dancing Federation, tells Scott he must know the truth about his parents, Doug and Shirley. It turns out that they were ballroom dancing champions until they lost the Pan-Pacific Grand Prix. Fife claims this was because Doug had become self-obsessed and danced his own steps. Barry convinces Scott to dance with Liz instead of Fran so he can win for his father.
At the Pan-Pacific Grand Prix, Scott's father tells Scott the real story: he never danced at the competition because Barry convinced Shirley the only way to win was to dance with their friend Les (Peter Whitford), but Shirley and Les lost the contest anyway. After hearing his father's revelation, Scott finds Fran and asks her to dance with him at the competition.
Director:  Baz Luhrmann
Year of Release: 1992

Character to watch: Paul Mercurio as Scott Hastings.
Journal your answers to the following questions after you watch the movie.
How does this particular character's journey compare with yours?
Did the character develop certain characteristics during the movie that you have or that you would like to have? If so, what are those characteristics?
What obstacles did this character face? What was his or her biggest challenge?
What would you have done differently if you had been in the same position as the character?
Is this character the type of person you would be friends with? Why or why not?