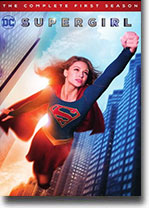 Born on the doomed planet Krypton, Kara Zor-El (Melissa Benoist) escaped at the same time as her cousin, Superman (Tyler Hoechlin), but didn't arrive on Earth until years later after being lost.
Raised by her adopted family, the Danvers, Kara grew up in the shadow of her foster sister, Alex (Chyler Leigh), and learned to hide the phenomenal powers she shares with her famous cousin.
Years later, at age 24, living in National City and working as an assistant for Catco Worldwide Media mogul Cat Grant (Calista Flockhart), Kara has spent so many years trying to fit in that she forgot to ever stand out.
All that changes when she decides to embrace her superhuman abilities and become the hero she was always destined to be. With the help of Daily Planet photographer James Olsen (Mehcad Brooks), her bioengineer sister Alex, and the research of the super-secret, off-the-grid Department of Extra-Normal Operations (DEO), who are tasked with keeping the Earth safe from aliens, Kara takes to the skies to protect her world.
This series simply works. Supergirl updates the classic character of Superman's young cousin Zor-El  with a genuine dignity and strength rarely seen in the falsely-dark superhero fare. Arguably one of the most important female super-heroines in comics history, Supergirl, created by Otto Binder and Al Plastino in 1959, was tragically lost in Marv Wolfman and George Perez's brilliant 1980s Crisis on Infinite Earths, a 12 issue maxi-series which somewhat regrettably helped ignite the event comics trend.
There's some decent special effects, especially later in the series. The music is really great like many of the other DC Comic TV shows. Benoist's acting chops are on point. She has an incredible emotional range and is able to make you happy or extremely sad. There is good reason why this show got the People's Choice Award for Best New Drama.

Character to watch: Melissa Benoist as Kara Danvers.
Journal your answers to the following questions after you watch the series.
How does this particular character's journey compare with yours?
Did the character develop certain characteristics during the movie that you have or that you would like to have? If so, what are those characteristics?
What obstacles did this character face? What was his or her biggest challenge?
What would you have done differently if you had been in the same position as the character?
Is this character the type of person you would be friends with? Why or why not?