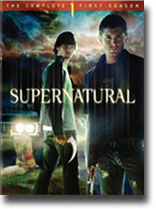 Bound by tragedy and blood to a dangerous, otherworldly mission, two brothers travel in mysterious back roads of the country in their '67 Chevy Impala, searching for their missing father–and hunting down every evil supernatural force they encounter along the way. Bring home all 22 episodes of the first season of the thrilling new show, Supernatural along with must-own bonus features. Supernatural is a completely new kind of thrill ride that takes viewers on a journey into the dark world of the unexplained.The horror series Supernatural delivers some of the most satisfying small-screen scares in recent memory. The premise is deceptively simple: brothers Sam and Dean (Jared Padalecki and Jensen Ackles), both appealing) travel the darker corners of the American landscape in search of their father, who's gone missing while hunting the malevolent forces that lead to the death of their mother.
In the course of their search, the siblings encounter a host of otherworldly creatures, including vampires, ghosts, and witches, as well as such distinctly American phenomena as the urban-legend favorite the Hook ("Hookman"), monsters from Native American mythology ("Wendigo"), and fearful figures from children's games ("Bloody Mary").
Supernatural's integration of elements from American pop culture and folklore, combined with its skilled cast and crew (creator/co-writer Erik Kripke delivered 2005's Boogeyman, while director/executive producer David Nutter is a veteran of The X-Files and Millennium), and better-than-average attempts at atmosphere and suspense place the series well above the other spookshow programs that arrived on networks at about the same time (Invasion, Night Stalker), and should hold considerable appeal for fans of frightful fare.
The six-disc set contains all 22 episodes of the debut season, with commentary by Ackles and Padalecki on "Phantom Traveler" and Nutter, Kripke, and producer Peter Johnson on the pilot episode; two making-of documentaries (one on the show itself, and the other on its stars), as well as a brace of unaired scenes and a gag reel round out the set. For those with DVD-ROM capabilities, the set also includes a link to a web site which offers a sneak preview at season 2 and the pilot script, among other bonus features.

Character to watch: Jared Padalecki as Sam Winchester.
Journal your answers to the following questions after you watch the series.
How does this particular character's journey compare with yours?
Did the character develop certain characteristics during the movie that you have or that you would like to have? If so, what are those characteristics?
What obstacles did this character face? What was his or her biggest challenge?
What would you have done differently if you had been in the same position as the character?
Is this character the type of person you would be friends with? Why or why not?