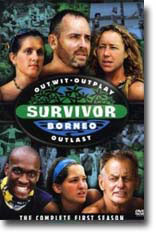 Over the spring of 2000, sixteen average Americans (divided into two tribes which eventually merge into one) were sequestered on the deserted island of Pulau Tiga for 39 days. For their stay, they must learn to live as a tribe, although eventually, it is everyone for themselves. They compete in challenges for "luxuries" (a barbecue, a phone call home, etc.) and immunity.Every three days, the losers of the latter challenges must face tribal council, where they will account for their actions by voting one person off of the island. At the end of day 39, there will be only one survivor left who will leave the island with one million dollars. Based on the Swedish game show, "Operation Robinson."
Here's where it all began. The first season of Survivor dominated the ratings in the summer of 2000, helped spur the reality-TV craze, and inspired countless water-cooler jokes about getting voted off the island.
The first season established the formula that would continue, with sometimes surprising variations, over numerous subsequent seasons: 16 people intended to represent the American mosaic are stranded far from civilization (in this case, the island of Pulau Tiga, off the coast of Borneo), struggle for food and shelter, compete in a series of physical and mental challenges, and at the end of each three-day episode vote out one of their fellow contestants.
After 39 days, the one sole survivor who is able to outwit, outplay, and outlast the others wins a million-dollar prize. Now, all 13 episodes are available in a five-disc set (the fifth disc is …Outrageous Moments) that contains every challenge, every political maneuver, every next-episode preview and previous-episode recap, every tribal council including the famous finale, and the reunion show.
If you started watching Survivor in the Australian Outback or later, this is the perfect opportunity to see how host Jeff Probst, scheming Richard Hatch, tough truck driver Sue Hawk, ex-Navy SEAL Rudy Boesch, athletic Kelly Wiglesworth, and the others got the ball rolling.
If you did watch the first season, here's your chance to relive it, and you also get an enthusiastic group commentary by host Jeff Probst (poking fun at himself) and contestants Hatch (talking the most, which should surprise no one), Boesch, and Gervase Peterson on the first and last episodes, plus some minor featurettes (seven minutes of footage of the contestants leaving L.A. for Borneo, David Letterman's Top 10 featuring the contestants, and 10 minutes of new interviews with Hatch, Boesch, and Peterson). Many reality shows have come and gone in the meantime, but in terms of staying fresh over a long run, Survivor has outwitted, outplayed, and outlasted them all.

Character to watch: Rob Mariano as himself.
Journal your answers to the following questions after you watch the series.
How does this particular character's journey compare with yours?
Did the character develop certain characteristics during the movie that you have or that you would like to have? If so, what are those characteristics?
What obstacles did this character face? What was his or her biggest challenge?
What would you have done differently if you had been in the same position as the character?
Is this character the type of person you would be friends with? Why or why not?