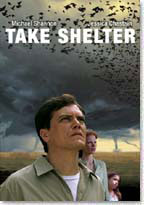 In Lagrange, Ohio, Curtis LaForche (Michael Shannon) has apocalyptic dreams of being harmed by people close to him, but he keeps them from his wife Samantha (Jessica Chastain) and their deaf daughter Hannah (Tova Stewart). He focuses on building a storm shelter in his backyard, but the strange behavior strains his relationship with his family. Curtis goes to see a counselor at a free clinic, with whom he talks about his family's psychological history.
His mother (Kathy Baker) suffers from paranoid schizophrenia, which presented about the same age that Curtis is now. Curtis borrows some equipment from his job, including a backhoe, and gets a home improvement loan to start building the shelter in his backyard, all without telling his wife; and she becomes angry when she discovers him working on the project. After Curtis takes more than the prescribed dose of a sedative and suffers a seizure, his wife calls an ambulance.
He quickly recovers and explains the entire situation to her. As he works on treatment for his daughter, he begins to miss more work. His boss confronts him about this and finally comes to his house, having been informed about the borrowed equipment. He fires Curtis and levies two weeks unpaid leave on Dewart (Shea Whigham), a co-worker who has been helping Curtis build the shelter.
The difference here is that Nichols wants to show how deeply linked the hallucinations, dreams and daily disturbances of a schizophrenic are to daily reality, in particular to our global feeling that the next shoe might drop at any time. If anyone watching imagines that Curtis' behavior is unrealistic or that Shannon's natural ability to be eccentric and frightening are exaggerations of what these people (and their loved ones) go through, think again.
A lot of men and women like Curtis simply fall through the cracks. The miracle Nichols pulls off here is to reflect so expertly what happens when these symptoms first start developing through Curtis' mind.
Director: Jeff Nichols
Year of Release: 2011

Character to watch: Michael Shannon as Curtis.
Journal your answers to the following questions after you watch the movie.
How does this particular character's journey compare with yours?
Did the character develop certain characteristics during the movie that you have or that you would like to have? If so, what are those characteristics?
What obstacles did this character face? What was his or her biggest challenge?
What would you have done differently if you had been in the same position as the character?
Is this character the type of person you would be friends with? Why or why not?