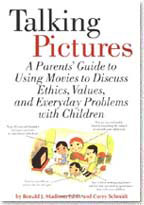 Talking Pictures : A Parent's Guide to Using Movies to Discuss Ethics, Values, and Everyday Problems with Children is perfect for stimulating open discussion between parent and child, this warm and insightful guide uses movies as a vehicle for discussing sensitive issues with children aged 5 through 15.
Combining the insight of a family therapist with the savvy of an expert in American film, Talking Pictures helps address difficult questions about divorce, marriage, family, love, gender identity, social ethics, separation and loss, friendship, death, illness, substance abuse, and more.
Divided into four age ranges to ensure that films and topics are age-appropriate, the book offers pointers for starting discussion, conversational techniques to draw out the most recalcitrant child, and suggested films to watch together, all of them widely available at video rental outlets. Dr. Ronald Madison is a psychologist who has worked with families for more than 25 years, using film as a therapeutic tool for communication. Corey Schmidt is a freelance writer and film enthusiast.
Every parent has been confronted by the blank stare displayed by their child when confronted with a difficult topic they simply wish not to discuss with you. This book overs an antidote to that ennui with the simple, but brilliant idea of 'taking" your kid to the movies instead. It offers the "safe" outlet of entertainment as an idea for serious discussion by employing salient guidelines and analysis of over 100 theatrical films.
Authors: Ronald Madison, Corey Schmidt
Year of Release: 2001