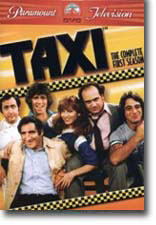 Hail, Taxi. It's great to finally have one of the defining sitcoms of the 1970s available on DVD to take out for a spin. This character-driven humane comedy from the creators of The Mary Tyler Moore Show rolled out of the garage with a full tank of gas: a lightning-in-a-bottle ensemble, smart, witty, and compassionate writing, and extraordinary characters.The Sunshine Cab Company was a much grittier workplace than the sunny WJM newsroom.
Its down, but never out employees–single mother Elaine (Marilu Henner), aspiring actor Bobby (Jeff Conaway), hapless boxer Tony (Tony Danza), reptilian dispatcher Louis (Danny DeVito), naive rube John (Randall Carver), and indeterminately foreign mechanic Latka (comic iconoclast Andy Kaufman)–struggled to keep rolling along. Judd Hirsch's salt-of-the-earth cabbie Alex Rieger solved everyone's problems but his own.
Half hours don't get more moving than the Humanitas Prize-winning episode, "Blind Date," in which Alex tries to befriend an embittered overweight woman, or funnier than "High School Reunion," in which Bobby impersonates Louie at Louie's reunion to impress his mean former classmates.
Along for the ride in this Emmy-winning first season are a pre-MagnumTom Selleck and Mandy Patinkin ("Memories of Cab 804") and life force Ruth Gordon, who was honored with an Emmy for her performance as one of Alex's most memorable fares ("Sugar Mama").
The poignant episode "Paper Marriage" features Christopher Lloyd as burn-out Reverend Jim, who would join the ensemble in season 2. Regrettably, this three-disc set is a stripped down model, with no commentary or interviews. But there is nothing hack about Taxi itself. This is "must-own" television fare.

Character to watch: Tony Danza as Tony.
Journal your answers to the following questions after you watch the series.
How does this particular character's journey compare with yours?
Did the character develop certain characteristics during the movie that you have or that you would like to have? If so, what are those characteristics?
What obstacles did this character face? What was his or her biggest challenge?
What would you have done differently if you had been in the same position as the character?
Is this character the type of person you would be friends with? Why or why not?