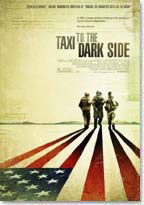 From the producer of Enron: The Smartest Guys in the Room and Who Killed the Electric Car? comes a documentary that takes a critical look at the Bush administration's policy on torture by investigating the death of an Afghan taxi driver who, after being taken into the custody of American soldiers at Bagram Air Force Base, suffered fatal injuries at the hands of U.S. soldiers.
In 2002, American soldiers accused an Afghan taxi driver of taking part in a deadly rocket attack. Five days after being handed over to the U.S. military for questioning, the man was found dead, the victim of a brutal bout of torture and abuse according to the medical examiner who inspected his body.
The examiner concluded that the taxi driver's hands had been bound to the ceiling, forcing him to stand for hours on end as his assailants repeatedly — and relentlessly — kicked him. Compelled to finally unearth the truth about the mysterious fate of the deceased taxi driver, filmmaker Alex Gibney takes viewers on an illuminating journey from a tiny Afghani village to Guantanamo Bay to Abu Ghraib, and ultimately the White House, to explore why the man who turned up in the morgue wasn't the only victim to fall prey to the Bush administration's controversial foreign policy.
By examining the sad fate of the wrongly accused, the toll that the War on Terror has taken on an exhausted United States military, and Justice Department official John Yoo's internal memo concerning interrogation techniques, the filmmakers behind Taxi to the Dark Side encourage viewers to weigh out the issues for themselves, and never accept what's told to them on face value.
Director:  Alex Gibney
Year of Release: 2007

Character to watch: Moazzam Begg as Himself.
Journal your answers to the following questions after you watch the movie.
How does this particular character's journey compare with yours?
Did the character develop certain characteristics during the movie that you have or that you would like to have? If so, what are those characteristics?
What obstacles did this character face? What was his or her biggest challenge?
What would you have done differently if you had been in the same position as the character?
Is this character the type of person you would