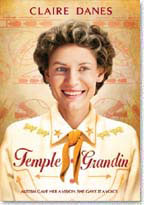 A biopic of Temple Grandin (Claire Dames), an autistic woman who became one of the top scientists in the humane livestock handling industry. She overcame the limitations imposed on her by her condition to become a Ph.D. She did not speak until age four and had difficulty right through high school, mostly in dealing with people. She developed an interest in cattle early in life while spending time at her Aunt (Catherine O'Hara) and Uncle's (Michael Crabtree) ranch.
She is noted for creating her squeeze machine or "hug box," widely recognized today as a way of relieving stress in autistic children, and her humane design for the treatment of cattle in processing plants, which have been the subject of several books and won an award from PETA. Today, she is a professor at Colorado State University and well-known speaker on autism and animal handling.
During Temple's college years, she conceptualized the squeeze machine, which was designed for herself because she had a sensory integration dysfunction and disliked physical affection by people. The machine hugs both sides of her to calm her down, as she controls the pressure, and it makes her relaxed whenever she becomes tense. Even though the machine worked, the school forced Temple to remove it, claiming that it was some kind of sexual device.
Later on, the movie flashes back to when Temple was just being admitted to Hampshire Country School. She was expelled from her previous high school because a child taunted her and she hit him with a book. There, she meets a supportive teacher, Dr. Carlock (David Strathairn), who encourages her to go further into science as a career and to eventually attend college.
The film concludes with an autism fair convention. Temple speaks out from the crowd and tells the audience how she overcame her difficulties and was able to achieve academically, as well as how her mother helped her deal with the everyday world. The people become so fascinated that they request Temple to speak in front of the auditorium.
Director: Mick Jackson
Year of Release: 2010

Character to watch: Claire Danes as Temple Grandin.
Journal your answers to the following questions after you watch the movie.
How does this particular character's journey compare with yours?
Did the character develop certain characteristics during the movie that you have or that you would like to have? If so, what are those characteristics?
What obstacles did this character face? What was his or her biggest challenge?
What would you have done differently if you had been in the same position as the character?
Is this character the type of person you would be friends with? Why or why not?