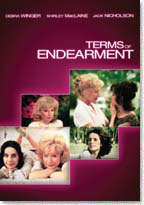 Aurora (Shirley MacLaine) and Emma Greenway Horton (Debra Winger) are mother and daughter, both searching for deep romantic love. Beginning with Emma's early childhood, Aurora reveals how difficult and caring she can be by nearly climbing into Emma's crib in order to make sure her daughter is breathing—only to be reassured once Emma starts crying (after physically waking her up). The two have an extremely close love-hate mother/daughter relationship as Emma grows up.
The film follows both women across several years as each find their reasons for going on living and finding joy. Emma gets married immediately upon graduating high school in the Houston area, while her best friend Patsy (Lisa Hart Caroll) continues on to college, eventually becoming successful and rich in New York City. Emma has two children that she and her husband, college professor Flap Horton (Jeff Daniels), struggle to support in Des Moines, Iowa, and she later telephones her mother and asks for money when she is pregnant with her third child.
Aurora, not knowing by the telephone call that Emma is already several months pregnant, wants Emma to get an abortion. Emma's once-passionate marriage to Flap becomes strained, thanks mostly to his philandering, and she finds a lover in small-town, older banker Sam Burns (John Lithgow), with whom she eventually has a romantic love affair as well.
At the same time, Aurora cultivates the attention of several gentlemen in the area, some rather bizarre, but is attracted to her next door neighbor of fifteen years, the philandering, retired astronaut Garrett Breedlove (Jack Nicholson). Garrett has been drinking heavily for years and partied with very young women at his home. Aurora and Garrett eventually go on a lunch date, make love and develop a tenuous relationship. One scene shows them speeding in his open Corvette convertible along a quiet beach as he recklessly sits on top of the car and steers with his foot.
Emma returns to her mother's home in Houston after discovering her husband is having an affair with a young grad student named Janice, who attends the same college where Flap teaches. However, Emma's appearance along with her three children spooks Garrett, who has been single for a long time. After re-assessing his relationship with Aurora, Garrett breaks up with her, greatly upsetting Aurora. While Emma is in Houston, Flap telephones her and she reluctantly returns home to Iowa, attempting reconciliation with him. Both accept that they have each made mistakes.
Director: James L. Brooks
Year of Release: 1983

Character to watch: Debra Winger as Emma Horton.
Journal your answers to the following questions after you watch the movie.
How does this particular character's journey compare with yours?
Did the character develop certain characteristics during the movie that you have or that you would like to have? If so, what are those characteristics?
What obstacles did this character face? What was his or her biggest challenge?
What would you have done differently if you had been in the same position as the character?
Is this character the type of person you would be friends with? Why or why not?