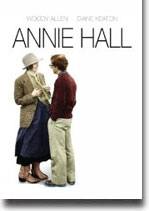 I have reformulated my list of the 10 most romantic movies of all time. While the term "romantic movie" is somewhat subjective, I focused on three main criteria:
Is the movie so romantic that it could change someone's behavior?
Does the movie have a high likelihood of producing romantic feelings?
Does the movie increase the chances of someone demonstrating gestures of affection?
Keep in mind that romantic movies can be a number of genres, primarily drama, comedy, and/or thriller. So close your curtains, snuggle up with a loved one, and check out my list of romantic movies.
Click here to order Annie Hall at Amazon.
1. Casablanca (1942)
Set in unoccupied Africa during the early days of World War II: An American expatriate meets a former lover, with unforeseen complications. Rick Blaine, exiled American and former freedom fighter, runs the most popular nightspot in town. When police local police Captain Renault detains Czechoslovak underground leader Victor Laszlo, Lazslo arrives with Ilsa, Rick's one time love.
Memorable quote from the film, "Of all the gin joints, in all the towns, in all the world, she walks into mine."
2. Vertigo (1958)
A retired detective suffering from acrophobia investigates the strange activities of an old friend's much-younger wife, all the while becoming dangerously obsessed with her.  John "Scottie" Ferguson is a retired San Francisco police detective who suffers from acrophobia and Madeleine is the lady who leads him to high places.
Memorable quote from the film, "Only one is a wanderer; two together are always going somewhere."
3. Eternal Sunshine of the Spotless Mind (2004)
A couple undergo a procedure to erase each other from their memories when their relationship turns sour, but it is only through the process of loss that they discover what they had to begin with.
Memorable quote from the film, "How happy is the blameless vestal's lot! / The world forgetting, by the world forgot / Eternal sunshine of the spotless mind! / Each pray'r accepted, and each wish resign'd."
4. Gone with the Wind (1939)
A manipulative Southern belle carries on a turbulent affair with a blockade runner during the American Civil War. Scarlett is a woman who can deal with a nation at war, Atlanta burning, the Union Army carrying off everything from her beloved Tara, the carpetbaggers who arrive after the war. Scarlett is beautiful. But Ashley, the man she has wanted for so long, is going to marry his placid cousin, Melanie.
Memorable quote from the film, "Open your eyes and look at me. No, I don't think I will kiss you, although you need kissing badly."
5. A Walk To Remember (2002)
Each Spring in the little port town of Beaufort, North Carolina, when the wind smells of pine and salt and the sea, Landon Carter remembers his senior year at Beaufort High and Jamie Sullivan, the girl who changed his life.
Memorable quote from the film, "You have to promise you won't fall in love with me."
6. Annie Hall (1977)
Romantic adventures of neurotic New York comedian Alvy Singer and his equally neurotic girlfriend Annie Hall. The film traces the course of their relationship from their first meeting, and serves as an interesting historical document about love in the 1970s.
Memorable quote from the film, "That sex was the most fun I've ever had without laughing."
7. The Perks of Being a Wallflower (2012)
Introverted freshman Charlie, an endearing and naive outsider, coping with first love, the suicide of his best friend, and his own mental illness while struggling to find a group of people with whom he belongs. The introvert freshman is taken under the wings of two seniors, Sam and Patrick, who welcome him to the real world.
Memorable quote from the film, "We accept the love we think we deserve."
8. Ghost (1990)
This is a story about love that transcends even death. A classic for many reasons including the iconic pottery scene, this touching tale is the perfect date movie and a must see for any romantic movie lover. Sam and Molly are happy and very much in love. Walking back to their new apartment after a night out at the theatre, their lives change suddenly with a chance encounter of a stranger.
Memorable quote from the film, "It's amazing, Molly. The love inside, you take it with you."
9. Legends of the Fall (1994)
The love of a woman, Susannah, and their father, William, creates tension, strife, and love within the lives of the three Ludlow brothers — Alfred, Tristan, and Samuel. Samuel dies in WWI, in Tristan's arms. This fact and an affair with Samuel's former fiance, Susannah, leaves Tristan guilty and heartbroken, given to fits of temper and bad decisions.
Memorable quote from the film, "Some people hear their own inner voices with great clearness and they live by what they hear. Such people become crazy, or they become legends. "
10. Brokeback Mountain (2005)
Ennis and Jack are sheep ranchers who wind up together on the same herding job. The two men get along rather well, but things change after a night of heavy drinking leads to intense, nearly violent passion, leaving both men confused but unable to deny their feelings for each other. After parting, each goes on to marry, but come together again and again throughout the separate courses of their life, reconnecting after divorce, hardship, and other problems.
Memorable quote from the film, "He always said he wanted his ashes scattered on Brokeback Mountain, but I wasn't sure where that was. I thought Brokeback Mountain might be around where he grew up. Knowing Jack, it was probably some pretend place, where bluebirds sing and there's a whiskey spring."