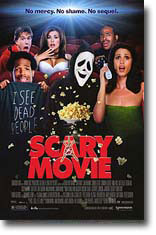 I have recreated my list of the 10 scariest movies of all time. While the term "scary movie" is somewhat subjective, I focused on four types of criteria:
Is the movie so scary that it could change someone's behavior?
Does the movie have a high likelihood of producing nightmares?
Do scenes in the movie make you want to look away?
Does the movie startle the viewer, make you anxious, or get your heart pumping?
Remember, scary movies can be a number of genres, primarily horror, crime, suspense, and/or thriller. So close your curtains, check out my list of scary movies.
Click Here To Order Scary Movie at Amazon
1. When a Stranger Calls (1979)
The first half or this suspenseful thriller is one of the scariest lengths of film footage of all times and sure to be scariest to the steeliest of babysitters. It will send chills down the spine of most anyone and certainly if you have just put the kids to sleep and are waiting anxiously for mom and dad to return.
Memorable quote from the film, "Have you checked the children?"
2. The Mothman Prophecies (2002)It's scary enough when you are getting predictions of doom from a shadowy figure who looks like a combination of some alien and one of Satan's minions. It's even more scarier when those predictions start coming true. And let us not forget the fact that this movie is based on a book chronicling true events from the late 1960s.
Memorable quote from the film, "In the end it all came down to just one simple question. Which was more important – having proof, or being alive? Trust me. I turned away years ago, and I've never looked back."
3. Nightmare on Elm Street (1984)As if insomniacs need another thing weighing on their minds every night. Before Freddy Krueger became a quipster who occasionally dabbles in scares, he was the burned-face murderer with knives for fingernails who killed teenagers in their dreams. Oh, but they wouldn't just die in their sleep. No, the gore would follow them into the real world.
Memorable quote from the film, "Whatever you do, don't fall asleep."
4. Psycho (1960)There's a good reason women are leery of men with mother issues. Certainly par of that reason is due to the Alfred Hitchcock classic Psycho. A blind date with Norman Bates is every single woman's nightmare. Janet Leigh's iconic shower scene has become imprinted on the American psyche due to this film.
Memorable quote from the film, "Well, if the woman up there is Mrs. Bates… who's that woman buried out in Greenlawn Cemetery?"
5. Silence of the Lambs (1991)Silence of the Lambs is about an incredibly disturbing serial killer is on the loose and a junior FBI agent seeking the assistance of an even more disturbing yet charming serial killer in a maximum security prison. Unlike many horror movies, the conversations in this film are as scary as the gore.
Memorable quote from the film, "It puts the lotion on its skin or else it gets the hose again."
6. The Shining (1980)Which would be worse? Your little boy seeing horrifying visions or your well-adjusted husband slowly descending into madness and becoming a homicidal maniac. There's plenty to frighten you in this classic horror thriller inspired by the Stephen King novel.
Memorable quote from the film, "All work and no play makes Jack a dull boy."
7. Alien (1979)A landmark of science fiction and horror, Alien has an ominous atmosphere, relentless suspense, and a flawless ensemble cast as the crew of the space freighter Nostromo, who fall prey to a vicious creature  that had gestated inside one of the ill-fated crew members.
Memorable quote from the film, "I admire its purity. A survivor, unclouded by conscience, remorse, or delusions of morality."
8. The Exorcist (1973)Linda Blair's performance in the Exorcist is almost enough to make you believe in demons if you didn't believe in them already. If you haven't watched this film in a while, do yourself a favor and check out the director's cut, then go ahead and try sleeping afterward. Even simple tasks, such as retreiving something from the attic, become difficult after watching this movie.
Memorable quote from the film, "The power of Christ compels you! The power of Christ compels you!"
9. Dead of Winter (1987)This pulse-pounding thriller in the tradition of the legendary master of suspense, Alfred Hitchcock, will keep you on the edge of your seat. It's a bone-chilling tale of deception, blackmail, and murder in which no one is who they seem to be and any mistake could be your last.
Memorable quote from the film, "There is no 311 area code."
10. Jaws (1975)
Every time we hear a news reports of great white shark sightings off the coast, we now think of "Jaws." Thanks to this movie, millions of people think twice anytime they set foot in the ocean. This movie will cause you to freak out every time something brushes up against your leg in the water.
Memorable quote from the film, "You're gonna need a bigger boat."