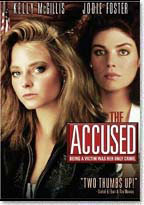 Late one night in a bar, Sarah Tobias (Foster), is gang raped by several drunk men, while drunken onlookers cheer them on. District attorney Kathryn Murphy (McGillis) is assigned to the rape case, but wants to drop it because she's not sure Tobias will make a good witness.
Murphy is reprimanded by her superior and told to enter a plea bargain with the rapists requiring some minimal jail time. Tobias is enraged by the deal, mostly because she did not get to tell her story in open court.
When Tobias is hospitalized after ramming her car into the vehicle of one the witnesses of her rape, Murphy does an about face and decides to prosecute the men who encouraged the rape for criminal solicitation.
Tobias' friend Sally (Ann Hearn), a waitress at the bar where the rape took place, picks three men out of a line-up, and they get three different attorneys for the trial. Tobias testifies that she was raped, while college student Kenneth Joyce (Bernie Coulson), a friend of one of the rapists, testifies to watching the rape prior to making a 911 call.
The Accused is a excellent movie about how a woman is treated after being raped. Foster received a well-deserved Oscar as her fearless performance of Sarah. There is a graphic rape scene towards the closing of the film that is to be expected since the main theme of this film is about the outcomes of a terrible and vicious rape.
McGillis's character seeks justice from the men who raped her in a downtown bar and even goes after the men who watched and cheered on the rape and did nothing to stop it. A powerful and superb film all around. This film will force you to see the truth and make you want to change the legal system.
Director: Jonathan Kaplan
Year of Release: 1988

Character to watch: Jodie Foster as Sarah Tobias.
Journal your answers to the following questions after you watch the movie.
How does this particular character's journey compare with yours?
Did the character develop certain characteristics during the movie that you have or that you would like to have? If so, what are those characteristics?
What obstacles did this character face? What was his or her biggest challenge?
What would you have done differently if you had been in the same position as the character?
Is this character the type of person you would be friends with? Why or why not?